We've all needed help from a Customer Service Executive at one time or another, sometimes it's a cell phone with garbled display, or a lost credit card, or an urgent flight booking. Customer Service Executives are required to answer incoming calls from customers for various reasons- take orders, answer inquiries, resolve complaints and provide information.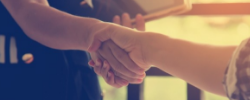 Customer Service Executives can be hired by ITeS companies and work for their clients, or by companies themselves. Almost all sectors and industries need customer service executives to handle queries and complaints from their customers.
The Job Role and Responsibilities
The primary responsibilities of a Customer Service Executive would be :
Answer calls professionally to provide information about products and services, take/ cancel orders, or obtain details of complaints.
Keep records of customer interactions and transactions, recording details of inquiries, complaints, and comments, as well as actions taken. Process orders, forms and applications.
Follow up to ensure that appropriate actions were taken on customers requests.
Refer unresolved customer grievances or special requests to designated departments for further investigation.
Competencies and Skills Required
Customer Service Executive plays a critical role in providing an interface between customers and the client company. ITeS companies look for candidates who have good communications skills, interpersonal skills and can handle stress well. The candidate should possess good listening skills, and the ability to think quickly, to make a recommendation or solution to the customer's problem. A clear and pleasant speaking voice and fluency in English is also desired. The major skills and competencies that employers look for in a candidate are:
Good communications skills
Ability to listen and active problem-solving skills
Good interpersonal skills
Ability to handle pressure
Assessment for the 'Right' Customer Service Executive
The following table illustrates how various skills and personality traits map to assessments required for the Customer Service Executive role:
Communication Skills
AMCAT English: High
Spoken English: High
Agreeableness: Mid to High
Interpersonal Skills
Spoken English: High
Extraversion: Mid
Openness to Experience: Mid
Problem Solving Skills
Logical Ability: Mid to High
Ability to work under stress
Emotional Stability: Mid to High
Assessments Correlation to Performance
Globally, standardized assessments have been used for hiring Customer Service Executives. The scores of these assessments have shown high 'validity' in predicting the success of the candidate as a Customer Service Executive. The objective criteria consist of assessments in spoken English, cognitive skills and personality inventory. Our research shows that spoken English combined with Agreeableness and Logical Ability shows a strong correlation to the success of a Customer Service Executive at entry-level. This is also backed by previous researches by Sawyerr, Srinivas and Wang1 and Grebber, Semmer et al2. According to a study carried out by Aspiring Minds now SHL, at a large call centre, organizational efficiency can be improved by as much as 26% by using standardized assessment during the selection and recruitment of Customer Service Executives.
—————————————————————-
Olukemi O. Sawyerr, Shanthi Srinivas, Sijun Wang, (2009) "Call center employee personality factors and service performance", Journal of Services Marketing, Vol. 23 Iss: 5, pp.301 – 317
2. Simone Grebner, Norbert Semmer, Luca Lo Faso, Stephan Gut, Wolfgang Kälin & Achim Elfering, (2003) "Working conditions, well-being, and job-related attitudes among call centre agents", European Journal of Work and Organizational Psychology, Volume 12, Issue 4.