A Client Service Delivery Manager working at the mid-management level can be a Project Manager with an IT/ITES company or an Account Manager managing key Corporate accounts for a manufacturing company. The job designation might change with the nature of the business, but job responsibilities essentially remain the same for a mid-level Client Service Delivery Manager.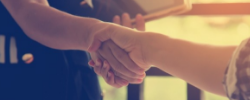 The Job Role and Responsibilities
The job responsibility of a mid-level Client Service Delivery Manager in B2B business is twofold: to ensure timely and efficient delivery of service/product to clients and to manage the client service team. The various responsibilities performed by a manager in this role would be:
Ensuring client satisfaction with an organization's product or service –

Understanding the needs and requirements of the customer, and moving to meet those needs proactively.
Directing and controlling the processing and fulfilment of orders, fielding customer inquiries and resolving customer complaints.
Planning, executing and finalizing projects according to deadlines and budgets.
To actively contribute to the growth of existing clients and the generation of new business with a measurable outcome.
Managing the entire sales cycle starting from forecasting and sales projections to delivering and billing.

Managing team of entry-level Client Service Managers

Training and development of the Client Service team in terms of technical knowledge and corporate etiquette's.
Provide guidance and support to team
Work allocation and streamlining business operations to optimize usage of business resources
Monitor and evaluate the Client Service team
Competencies and Skills Required
A mid-level client service manager should possess an in-depth knowledge of the client and services that he/she is managing. The manager should be able to plan, execute and strategize effectively. The major skills and competencies that employers look for are:
Good leadership skills.
Excellent interpersonal and communication skills.
Good problem-solving and analytical skills.
Detail-oriented and diligent.
Entrepreneurial by nature with a strong sense of ownership.
Excellent knowledge of Excel, PowerPoint, Word etc computer applications
Assessment for the 'Right' Mid Level Client Service Delivery Manager
Aspiring Minds, Now SHL has launched Situation Judgment Test (SJT) to help companies hire for mid-management level. SJT based testing is a globally accepted methodology to measure constructs ranging from problem-solving and decision making to behaviour traits. The following table illustrates how various skills and personality traits map to assessments required for the role:
Mid Management Client Service
Delivery Manager Skills
SJT Mapping
Customer Relationship Management
Judgment: Mid to High
Commercial Savvy: Mid
Risk-Taking Ability: Mid
Marketing & Communication skills: Mid to High
Decisiveness: Mid to High
Team Handling
Ability to build leaders: Mid to High
Judgment: Mid to High
Decisiveness: Mid to High
Assessments Correlation to Performance
Globally, standardized assessments have been used for hiring mid-level Client Service Delivery Managers. The scores of these assessments show high 'validity' in predicting the success of the candidate as a mid-level Client Service Delivery Managers in a B2B business setting. The objective criteria consist of assessments in business competencies like Problem Solving, Commercial Savviness, Judgment etc. SJT Tests are simulation-based tests which rather than testing the hidden traits required for a job, simulate job scenarios and directly test whether the candidate will respond in the correct manner. In terms of job performance prediction for the mid-management level, SJTs have proved to be far superior as compared to aptitude, domain, personality and other traditional tests. Organizational efficiency can be improved by as much as 34% by using Situation Judgment Tests for the recruitment of mid-level managers.