A legal associate is an entry to a mid-level attorney. It is a person who is involved in understanding the client's legal requirements and crafting solutions thereof.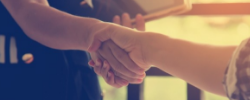 The Job Role and Responsibilities
The primary job roles and responsibilities of a customer support executive include:
Providing support in offering legal solutions to clients.
Analytical understanding and interpretation of client problems and their resolution.
Filing and review of legal documents.
Research on various legal issues pertaining to the client.
Competencies and Skills Required
Understanding and familiarity with the legal services industry are key in this profile. An analytical bent of mind with critical reasoning ability and very good attention to detail capability is needed.
The major skills and competencies required for this role include:
Excellent critical and legal reasoning skills.
Good problem-solving skills.
Excellent legal English skills.
Very strong focus on attention to detail.
Assessment for the 'Right' Legal Associate
The following table illustrates how various skills and personality traits map to assessments required for the Legal Associate role:
Legal Associate Profile Skills
AMCAT Mapping
Critical Reasoning
High
Communication Skills
AMCAT English: High
Extraversion: Mid
Openness to Experience: Mid
Agreeableness: Mid to High
Problem Solving Skills
Logical Ability: High
Ability to work under stress
Emotional Stability: Mid to High