Corporate sales or Business-to-business sales involve working in a company that sells directly to other businesses. A corporate sales executive can be a part of the organizations' feet on the street sales team or telesales team and can be selling products like automobile parts or services like financial advisory services.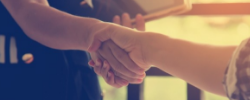 The Job Role and Responsibilities
The corporate sales team relies heavily on relationship building and consultative selling. Since the stakes are high, the selling cycle is usually long and decision making involves multiple stakeholders, there are a lot of varied responsibilities that a corporate sales executive needs to undertake.
The job description and responsibilities would depend on the type of organization and its product. For example, a hotel chain or a bank would have a corporate sales team as well as a telesales team to sell its products and services to corporates and HNIs. Whereas companies that manufacture parts or raw materials would have an a-feet-on-street sales team to sell to manufacturing companies.
Overall all corporate sales executives would be performing some or all of the following responsibilities:
Researching and identifying sales opportunity, generating leads, target identification and classification
Reaching out to new customers and making presentations or pitches outlining the benefits of product/ services.
Understanding the client requirements and then customizing the product/ services as per their needs
Maintaining relationship with all potential and existing clients
Ensuring proper servicing and after-sales support to clients
Data reporting to management and gathering market intelligence
Competencies and Skills Required
Communication skills are the key to corporate sales. Good command of the English language, ability to speak fluently and write correct English are the basic requirements for this profile. Needless to say, most of the candidates get rejected because f their poor communication skills. Spoken English proficiency becomes all the more important for a telesales profile, where the only communication happening between the client and company is over a telephone. A clear voice, fluency and correct pronunciation along with a strong grasp of grammar and words in the English language are basic requirements for all telesales jobs. Most recruiters, especially in the case of high volume recruitment like in ITeS companies, struggle to automate and standardize their filtering process on spoken English, to reduce human error and increase efficiency.
Apart from communication skills, good interpersonal skills coupled with a thorough understanding of product, market and customer, are must-have skills for a corporate sales executive. Broadly speaking, most recruiters would look for the following competencies when hiring a person responsible to do corporate sales:
Excellent communication skills
Strong interpersonal skills
Ability to understand client's needs and present solutions
Understanding of market and product
Assessment for the 'Right' Corporate Sales Executive
Corporate Sales Profile
AMCAT Mapping
Communication Skills
Written English –
Spoken English (SVAR) – High
Interpersonal Skills
Agreeableness – Mid to High
Extraversion – Mid
Ability to understand and respond to client's needs
Logical Ability – Mid to High
Understanding of sales cycle and sales techniques
Sales SJT – Mid to High
Assessments' Correlation to Performance
Globally, standardized assessments have been used for hiring Sales Executives across sectors and industries. There is much evidence to indicate that tests of cognitive ability are strong predictors of job performance in a Sales Executive role. Studies by Arneson et al. (1993)1, Barrick et al. (1993)2 and Vinchur et al. (1998)3 clearly show that there is a strong correlation between a candidate's general cognitive skills and personality traits with his Supervisor Ratings, Sales volumes and other parameters of job success.
When it comes to telesales, there are multiple studies that indicate Spoken English as the most important indicator of a candidate's performance in the profile. Aspiring Minds-Now SHL conducted a benchmarking study on a large MNC bank with a telesales team responsible to do corporate sales. Candidates were assessed on SVAR (Aspiring Minds' (now SHL) automated spoken English evaluation tool) and their performance rating was obtained by their supervisors and managers. Correlation studies between the two showed that candidates scoring high on spoken English parameters were given higher ratings by the managers and tend to perform better as compared to candidates scoring low. This means that if the candidates had been assessed on SVAR at the time of recruitment, and recruitment benchmarks were used to filter the potential low performers, the organizational efficiency could have been improved by 18-23%.
Research studies by Aspiring Minds show that written and verbal communication skills combined with personality and Sales Situation Judgment assessment can successfully predict the future potential of a candidate as a sales executive, at the time of recruitment itself.
—————————————————————
1. Arneson, S., Millikin-Davies, M. & Hogan, J. (1993). Validation of personality and cognitive measures for insurance claims examiners. Journal of Business and Psychology, 7(4), 459-473.
2. Barrick, M.R., Mount, M.K. & Strauss, J.P. (1993). Conscientiousness and performance of sales representatives: Test of the mediating elects of goal setting. Journal of Applied Psychology, 78(5), 715-722.
3. Vinchur, A.J., Schippmann, J.S., Switzer, III, F.S. & Roth, P.L. (1998). A meta-analytic review of predictors of job performance for salespeople. Journal of Applied Psychology, 68, 587- 593.