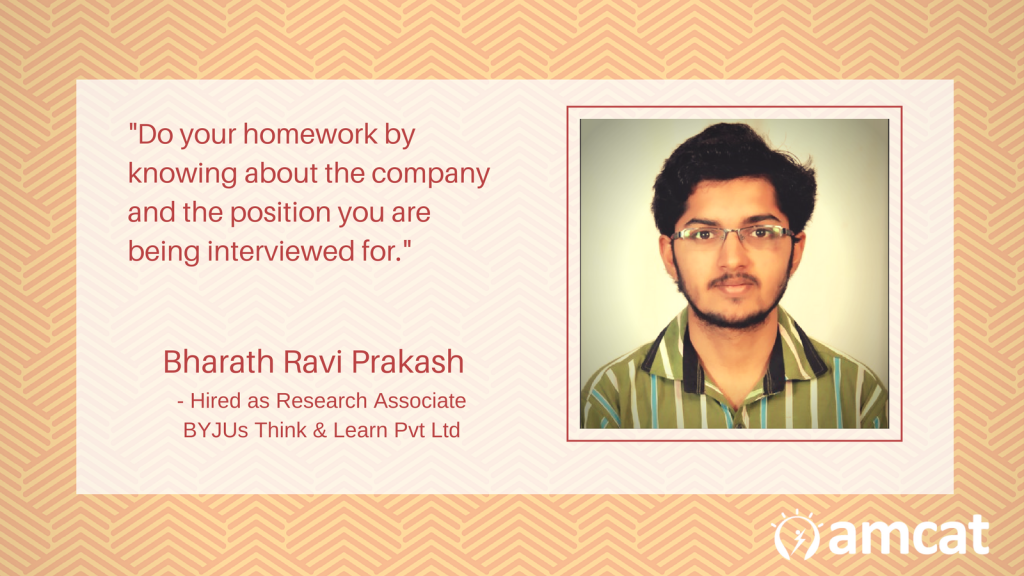 A tech enthusiast by nature, Bharath was firm about being prepared when putting his best foot forward during his job search. And that's what helped him gain a job with BYJUs. Find out how he was able to overcome low chances for a fresher job, with this one lesson that he took to heart.
'I immediately opted for the AMCAT Test.'
Bharath Ravi Prakash, a 2017 BE (ECE) graduate from the Jyothy Institute of Technology, Bengaluru had a clear idea regarding his chances during campus placement. Disparaging about his graduation score – he graduated with 67% marks, he felt his chances were also lower than his peers across India, as his college was relatively new. So, he decided to prepare for the skill assessment, the AMCAT Test.
We asked him a little about the preparation he did to crack the AMCAT and this is what he shared with us.
'You don't need any extra special preparation.'
Terming his AMCAT experience awesome, he recalled that he did not need any explicit preparation for the skill assessment. He did it by "referring sample test papers and practising a lot of aptitude exercises."
And then he waited for the job interview calls to begin. The first among these, came his way nearly 40 days after the interview. There have been six interview calls of significance so far.
The job in BYJUs:
Bharath began his career road as a tech enthusiast, an application developer who was keen on reverse engineering. He feels that the job in BYJUs, which he managed to crack via the AMCAT, was a logical, next step forward.
Bharath had been matched to a Research Associate position with BYJUs, heading for the job interview as it was in line with his own career aspirations. This is how he describes his interview experience with the company.
"There were 5 rounds of the interview that were scheduled. I had not prepared specially for the interview. I just collected more information about the company and my job position."
Looking back, he suggests that the 'homework' he did was what made it easy for him to crack the job in BYJUs. "The best tip that I would like to give is please do your homework by knowing about the company in brief and the position you are being interviewed for."
Congratulations Bharath, for making it through. We hope that your job in BYJUs as a research associate would lead you down to your own interests. In the meantime, we hope that your story helps other AMCAT aspirants and lets them take a decision towards the skill assessment.
If you're an aspirant who is keen on reading up on AMCAT success stories, we've linked them to this piece. You can also schedule an AMCAT today.