First and foremost, let's get the question out of the way, "What is an NEA Engineering College?"
Well, it's not a college with some special education stream or status. NEA stands for National Employability Award, which goes to colleges that have shown an outstanding rate of campus hiring.
Aspiring Minds, recently, came out with its first list of engineering colleges which are selected for this award for 2019. These engineering colleges, are amongst the top 10% campuses nationally, or in their respective states.
What sets them apart from the rest!? Skill Assessment.
Yes! The differentiating factor for these engineering colleges to excel so much has been the persistent follow of skill assessment program conducted for their students, to ensure better placement results.
Time and again, Aspiring Minds has advocated the importance of skill assessment for better job placements. myAMCAT, the signature service from Aspiring Minds for skill-based assessment of students, is a bold example of the same.
Over the period of a decade, myAMCAT has helped fresher students from different subject streams, especially engineering, to get their dream job and kickstart their career on a high note.
Encapsulated with the support of Resume Buddy and MockAI, another set of helpful tools for job preparation, AMCAT's advanced skill assessment program is the best bet for engineering colleges to get their students hired by some of the most reputed organizations in India.
With the latest list of engineering colleges which were named for the NEA 2019, Aspiring Minds conducted a survey to analyze the reason for such outstanding performance of these campuses.
In this survey, a study was done on the mean scores and employability of students from NEA campuses and how they compared with those from the non-NEA campuses. This is what was found;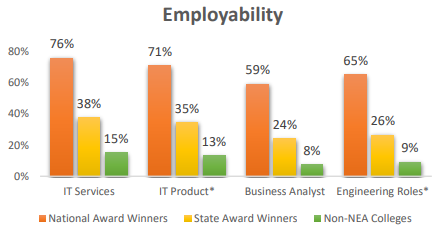 *Employability in IT Product & Engineering roles is calculated basis E,L,Q modules only. 
Some companies may shortlist basis respective domain module scores.
As clear from the above graph, NEA winning campuses have a higher mean score in comparison to non-NEA colleges.
In fact, those engineering colleges who excelled on the national level of employability had even a higher mean score than those named for state awards.
When the placement cell department of these NEA engineering colleges, both national and state level winners, were contacted to analyze and understand what they did differently, here's what was found;
Early Assessment
Majority of these colleges conducted early assessments for their students.
They got their students to take the skill assessment exam while they were in their pre-final year itself.
This provided early feedback on their performance in the exam and gave a wide window of improving on the same; before the pressure of placements begin by the time they are about to finish their final year in college.
Best Utilization of Summer Vacations
Students were able to utilize their summer vacations in covering up the areas where they lacked during the exam; as per the feedback report.
This gave them the ease to focus on their subject preparation while the college session is on, rather than deflecting the focus in two places.
Internship Opportunities
Internships! One of the biggest support provided to a fresher student's resume in order to crack their first job.
Many big corporates access students for internships on the basis of their skill assessment exam scores.
Thus, students could use their scores to earn a reputable internship, several of which later turned into a full-time job for them.
Strategizing Training Programs
Early assessment helped the college placement cell officers and administration team to work with the feedback report. They could plan and strategize the training programs required for the students to fill the gaps.
To conclude this, it is clear from the above analysis that engineering colleges who followed a persistent skill assessment plan for their students had an upper edge from the rest, and could make it to the list of National Employability Award 2019.
But, above all, they could manage to provide their students with what they promised them at the beginning of their academic session; job placement.
So, what are you waiting for!? Now is the time. Start preparing your 2019 batch students right away to allow them sufficient time for improvement and help them grab their dream jobs!