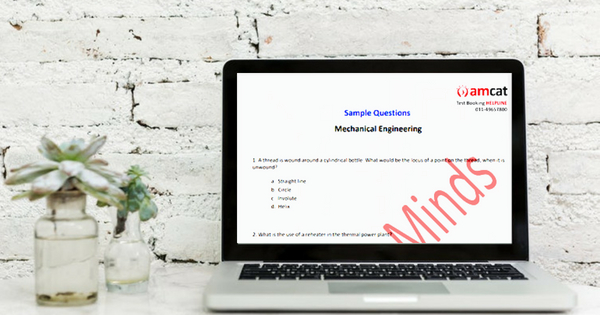 If you want to make the most of the AMCAT exam, then it is important that you prepare well for it. The AMCAT exam acts as a conductor between recruiter and job seekers, the reason why it is so popular among young candidates. However, this popularity also means that you need to be better than the best to grab the highest paying jobs, or the biggest names in the industry.
And, to score well, you need to work up a timetable and stick to it and take hints from AMCAT previous years' papers to understand what to expect from the exam.
In our series of AMCAT previous years' papers, today our topic of discussion is 'AMCAT previous years' papers for Mechanical engineering.'
Also, read – "How to crack AMCAT in the first attempt"
AMCAT preparation guide for Mechanical engineers
Your AMCAT preparation starts with solving the sample papers on a near-daily basis. However, before you switch to solving sample papers, you should first focus on your core skills.
Start by revising your notes from the first and second year to build on your basics. For the compulsory sections like English, Quantitative Aptitude and Logical Reasoning, start by solving the basics problem related to the topic.
You can improve your English communication skills immensely by reading newspapers on a regular basis. (best ways to improve your English)
Similarly, you can look up for quantitative aptitude and logical reasoning questions on the internet and practice.
However, the main focus of your preparation should be on the Mechanical engineering module. 
AMCAT exam pattern for Mechanical engineering
The Mechanical Engineering module tests the core skills of the students and their understanding of the subject. It focuses more on concepts and in-depth knowledge rather than bookish learning.
The duration of this test module is 25 minutes with a total of 30 questions being asked during the said time period.
The module is divided into three categories and its sub-categories, which are –
Manufacturing Science
Engineering materials
Production engineering
CAD/CAM
Industrial engineering
Thermodynamics and IC Engines
Thermodynamic cycles and steam generators
IC engines
Heat transfer, refrigeration and air conditioning
Fluid and Machine Mechanics
Fluid mechanics and fluid machinery
Strength of materials
Theory of machines
Machine design
If you are clear on these topics, then it won't be too tough for you to score well in the AMCAT exam and all further exams related to your subject. However, while a consistent effort is a must, you should also check your preparedness for the test by opting for prepAMCAT.
PrepAMCAT is one of the best AMCAT preparation tools that are there in the market. Based on the same principles as the AMCAT exam, prepAMCAT can give you a clear idea of what kind of questions to expect and where you stand with your current preparation.
When you opt for prepAMCAT or give the final AMCAT exam, you will be confronted with questions like –
Which of the following doesn't affect the drag and lift forces experienced by an object placed in a fluid stream?
Temperature
Pressure
Velocity
Viscosity
The best way to go about your AMCAT preparation is to start from the basics and then move upward. A clear and thorough understanding of your subject will not only help you nail the AMCAT exam but it will help you further in all job interviews and the additional (depended on the company involved) exams conducted by the various companies.
So, prepare and prepare well.
All the best!