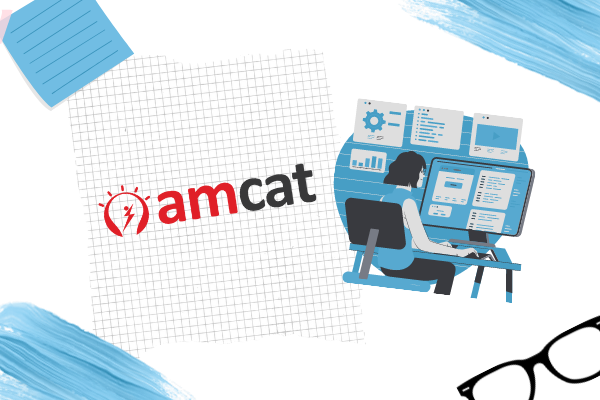 MNC Jobs in India include excellent pay and benefits, exciting job assignments, and the opportunity to work on cutting-edge technology and products.
Many MNCs hire young graduates on campus, but many universities in India do not conduct campus interviews or only do them for a short period of time. If you find yourself in such circumstances and want to apply for MNC jobs, there is a simple option for you i.e. AMCAT.
At the time of virtual hiring process, the hiring manager uses job resumes to learn more about a candidate and determine whether they are a good fit for the role. Despite the fact that there are a few common resume styles and designs, a candidate's job resumes should still show their unique experience and relevant abilities.
AMCAT is the perfect way to apply for MNC jobs. Just keep reading to learn why you should register for AMCAT products immediately.
Interview Preparation Services
Are you stressed and worried about your upcoming interview? Not to worry, we have got you covered with our tool Interview Preparation Services. Now, prepare for an interview with the help of industry professionals. Get precise insights from our AI-driven interview evaluation tool and a dedicated expert.
AMCAT works with over 100 Fortune 500 firms and 5000 startups, and we understand what these companies seek when hiring new employees.
The tool assists you with everything and makes you all set to appear for an actual interview. Also, it provides feedback on different skills such as Social, Technical, English, and HR Interview Skills.
Resume Buddy
Are you struggling with your resume? We have our tool RB to help you. Resume Buddy is an automated resume-building service provided by AMCAT. It's useful for freshers as well as for experienced job hunters. The purpose of this tool is to help you write the finest resume possible and proceed to the next round of interviews.
The tool makes job-hunting simple, practical, and quick. Thanks to inbuilt resume templates, using which the tool generates a resume based on your profile and provides you with a copy within 5 minutes that you can use right away and apply for jobs.
Why choose Resume Buddy?
With RB it is easy to create an effective resume with minimum effort.
This tool lets one choose from a large number of well-written job description phrases from a variety of businesses.
It offers 37+ templates that will make a candidate's resume different from the crowd.
For all the freshers and experienced people this tool builds the perfect resume regardless of what stage they are at in their career.
Cover letter makes a great impact on the recruiters. RB lets a candidate impress the recruiter by creating a strong and short cover letter.
Mock-AI
Prepare for your job interview by evaluating your interview abilities with the most advanced feedback available on your interview skills, with the help of AMCAT's Mock-AI
Prep AMCAT
Prep AMCAT is the official AMCAT sample test that will help you understand what to expect on the exam and how to improve your preparation. Prep AMCAT allows you to determine whether or not you are prepared for the test beforehand.  Since by now you already know it's based on the actual test's pattern, so it'll give you an idea about the type of questions to expect. AMCAT Prep is a simulation of the real exam. It will provide you with a clear picture of your current situation in terms of preparation.
What are the steps for Prep AMCAT?
One should appear for Prep AMCAT any time before the actual test.
Appear for the actual AMCAT questions from all the given modules and get the scores within 2 hours.
Examine your Prep AMCAT results and plan accordingly.
Prepare to take the AMCAT at the centre and prepare for your ideal job.
MyEnglish
How do you intend to brush up on your English skills and become a master in the language before attending an interview?
Any job interview will include a series of questions to which you must react properly. It also necessitates a strong mastery of the tenses and, ideally, no grammar errors.
Taking up AMCAT's MyEnglish to improve your English abilities and gain confidence during the interview is the best option. MyEnglish Certification will provide you with an undue advantage in your job search.
Benefits That MyEnglish Has:
This certificate evaluates grammar, fluency, and pronunciation.
Get a full diagnostic report as well as resources to help you improve your English speaking and writing skills.
Acquire the industry recognized AMCAT certification to give your job search the English edge it requires.
Resume Writing Service
Are you concerned about the quality of your resume? Our tool Resume Writing Service knows what employers are looking for in a resume.  Our resume experts and smart AI-based resume analyzer can assist you in highlighting your skills.
Why Should One Take AMCAT's Resume Writing Service?
Each resume is written by a member of our expert team who is well-versed in the requirements of the sector.
We meet with you, get to know you, and learn about the types of jobs you're looking for before creating a resume that's right for you.
Using a powerful resume analyzer, our professionals ensure that your resume is entirely error-free and that all sentences are professionally written.
Our professionals create each resume to match your needs and deliver it once you approve the copy.
We can provide you with an excellent resume in as little as 7 days. Talk to us right now whether you're applying for a job or going for an interview!
Choose from 25+ premium resume styles, including graphic templates, that are industry-accepted.
Get access to the Resume Buddy platform so you can quickly edit and modify your resume in the future. Additionally, based on your resume, you will receive projected interview questions and preparation tips.
Do not worry and be ready to get placed in the top MNC after giving AMCAT exam and working on your core skills!