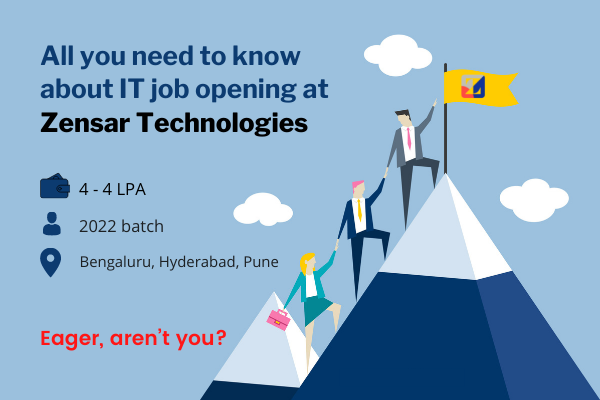 Nowadays, running a business without an app or a website is nearly impossible, as websites enable businesses to connect with a larger audience and which in turn convert more people into consumers. Start-ups and entrepreneurs that are trying to expand their online presence are having huge requirements for web development services. Be it anyone, whether a small or large company, a non-profit or government institution, or an individual, needs a website. Web development's future potential in India is growing, and it has become a critical breakthrough in the country. Not only does Web development appears to have a bright future in 2022, but also for the rest of the decade.
AMCAT is here to help anyone who is looking for a job opportunity in the above field. AMCAT offers a wide variety of fresher jobs for candidates to find their dream job along with an interesting salary package.
Why should you consider working with a web development company, like Zensar?
A web development firm can help you create a high-quality website that will benefit your organization.
A high-quality website is not only fully functional, user-friendly, and engaging, but it also provides essential information that will help you reach your target audience and generate revenue.
Let's talk about one of the leading organizations in web development – Zensar.
With over 10,000 employees spread over 33 global locations, Zensar Technologies is India's leading artificial intelligence company. Due to Zensar Technologies' creative and agile AI strategies, Zensar AI models are popular among over 130 businesses. The organization is dedicated to disrupting numerous industries, including high-tech, manufacturing, insurance, and healthcare, through innovation and velocity in a cost-effective and efficient manner. Let us take a look at Zensar Technologies' different AI strategies based on AI models.
One of Zensar Technologies' most successful AI strategies was its transition from a live digital organization to a living artificial intelligence corporation.
Why Zensar is the right company to work with?
The organization keeps on offering opportunities to work on different kinds of projects involving multiple technologies and work here is recognized and appreciated. People in the organization are down to earth and are always willing to help each other even if when they are busy. The company management has built an environment where there are challenges, and you are encouraged to face them and resolve them. The company is flexible and provides freedom and trust with the work of an employee, and they are always encouraged to take ownership and make an impact with the project they are working on. If one wants their work to be rewarded then being consistent and working hard are the keys to that, after that no one can stop the award coming your way.
Job Location:
Pune/Hyderabad/Bengaluru/ or any client locations in India
Required Experience:
Freshers
Educational And Technical Competencies:
Targeting 2020 and 2021 Batch.
BE/B.TECH (CS/IT) or MCA or MSC pass out year – 2020 and 2021.
 Minimum 60% and above in 10th, 12th, and Graduation/Post-Graduation.
We cater to global clientele that works in the 24*7 model; associates may be required to work in flexible time-zones.
Open to work across diverse technology platforms or as per business requirements.
Required Skill Set:
Should have good communication and interpersonal skills.
Portray strong analytical and problem solving, skills.
Willingness to work in collaboration with team.
Demonstrate the ability to multitask and drive efforts in an agile way.
Focus – Customer centric approach.
Job Profile:
Junior Software Engineer
Salary:
INR 4 LPA
Selection Process:
AMCAT shortlisting
Online Assessment
Technical Interview
Do not miss your chance, go ahead and apply for this amazing opportunity now in Zensar.