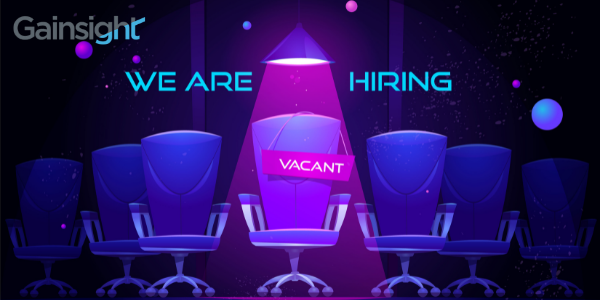 Searching for a job opportunity may be stressful and difficult for anyone, especially for someone who has just graduated and is searching for a stable job in a reputed organization being an engineer.  To achieve that goal, AMCAT is here to assist you. The process of finding a suitable opportunity is mentally and physically exhausting, but we are here to assure you that we can make the entire process extremely simple for you.
AMCAT has a large number of fresher positions to choose from, allowing every individual to find their dream career with a competitive salary package.
Why Should You Consider Working With Gainsight?
The company has been labeled as one of India's Top 50 mid-size companies and India's Best Workplaces in IT & IT-BPM by 'Great Place To Work,' one of the top 100 private cloud companies in the world by Forbes, one of America's fastest-growing private companies by Inc. Magazine, and one of Fortune Magazine's 20 Great Workplaces in Tech. Nick Mehta, the CEO of Gainsight, has been named one of America's Top SaaS CEOs. Hyderabad, Bengaluru, California, Phoenix, St. Louis, London, and Tel Aviv are among the locations where the company has its presence.
Gainsight, assist businesses in establishing long-term relationships with their customers.
What companies do you usually keep returning to? Your preferred dining establishment. Your hairdresser. Your dependable mechanic.
This time, we have an amazing opportunity for you, where you get a chance to work with Gainsight. So, here's all you need to know about this position.
About The Company – Gainsight
Gainsight is now a Unicorn company through its recent investment of $1.1 billion from Vista Equity Partners to continue revolutionizing Customer Success for businesses. The Customer Success company helps businesses grow faster by reducing churn, increasing upsell, and driving customer advocacy.
Gainsight provides a complete, end-to-end Customer Success solution through its services and technology. The industry-leading platform helps companies manage customer's relationships effectively, track customer health and transform the way organizations orient around the customer. Gainsight is the platform of choice for many leading companies like Box, Adobe, and Workday.
Job Location:
Work from Home for now (wfo might resume)
Required Experience: 
Freshers
Job Profile:
Services Engineer
Salary:
INR 7– 9 LPA
Educational And Technical Competencies:
Targeting 2022 Batch
BE/B.TECH (CS/IT/ECE/ME)
Required Skill Set:
Excellent communication skills (verbal and written).
Excellent aptitude for Technology and strong logical and analytical skills.
Excellent Customer Service skills.
Knowledge of SQL and/or CRM (Salesforce).
Enable customers to achieve their business goals using CS best practices and Products as a medium.
Resolve and remediate software and technical questions for the customer efficiently and effectively.
Gather the required information necessary in order to resolve technical issues.
Automate repeated tasks to gain efficiency and enhance productivity.
Partner with development team members on various strategic projects when needed.
Collaborate closely with teams in the USA (St. Louis, California, others).
So, what are you waiting for go ahead and apply for this fresher job in Gainsight?