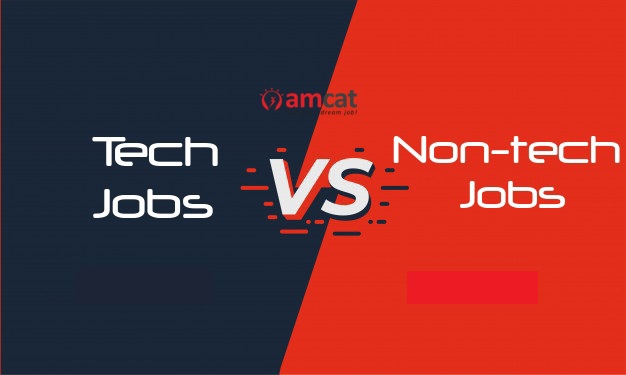 There are basically two kinds of jobs in the world – The tech jobs and the non-tech jobs. As the names suggest, these jobs have stark differences that separate them from each other.
The tech jobs are the ones where the students will use their technical skills, knowledge, experiences, and education to bring out viable solutions for business problems. The tech jobs are mostly related to computer codes, software applications, network systems and algorithms, etc. that support the functions of an organization.
There is absolutely no business, product or service that can exist without the right kind of technical support from those working in IT job profiles.
As for non-tech jobs, these are the ones that are not totally unrelated to technology, instead primarily focused on business. However, the non-tech jobs must not be taken lightly as they involve putting the word out in public about all the break-through changes happening in the technology world.
The new graduates can choose between the two fields of work by making conscious and informed choices.
This blog is for those candidates who're looking for graduate jobs but do not really know what lies in each field of operation. The key differences between tech and non-tech jobs are listed below for your information.
The differences
No organization can operate systematically without a proper mix of tech and non-tech departments. Both types of employees contribute equally towards the success of an organization and thus both should be equally valued and respected.
However, we all must make a career choice on the basis of our interest, skills, and knowledge. Which is why it is necessary to know what kind of graduate job brings in what sort of value to your career and facilitates your interest in the field.
Kinds of jobs
The IT job profiles are responsible for providing hardware and software supplies to individuals and organizations that have innovation at the heart of their operations. For instance, most people do not know who to consult in case of a laptop breakdown, forgotten password, crashed computer or just about anything to do with their network devices.
Some of the most common tech jobs include;
– Programmer

– Service Engineer

– Service Technician

– IT System Administrator

– IT Network Administrator

– Web Designer

– PC Technician

– IT Consultant

– IT Analyst

– IT Tester

– IT Security Specialist

– Technical Support Specialist
Additional Read: What does it take to find tech support jobs?
Non-tech jobs, on the other hand, have more to do with business, profits, management, planning, budgets, ROI and cash flow.
Some of the common non-tech job profiles are
– Office Manager

– Economist

– Financial Analyst

– Accountant

– Auditor

– Consultant

– Account Manager

– Marketing Analyst

– Copywriter

– Event Manager

– Marketing Specialist
Additional Read: How To Find A Job In Data Analytics
Skills
Both, tech and non-tech jobs require different kinds of skills. To apply for IT job profiles, the students must have polished technical skills that are very well portrayed on the job resume.
These skills allow you to have deeper-than-average knowledge of modern systems. They make you infinitely more desirable among recruiters.
On the other hand, non-tech jobs require you to have excellent soft skills like communication skills, leadership skills, problem-solving ability, and inter-personal skills to maintain business relations.
Growth prospects
In terms of pay scale, both tech and non-tech jobs pay very well at higher positions. As for entry-level graduate jobs, you start out with industry standard packages. Both jobs have great future growth aspects attached to them.
While working in the technology side of the business, you'll know that there is great money for great innovations. New technology brings in lots of profits, promotions and, acknowledgments. However, if you're successful in non-tech jobs you'll not only rack in great profits for the business but fame and reputation for yourself.
There are plenty of job opportunities in both the sectors as every organization, today, requires a proportionate mix of employees with both the skills.
For instance, a tech-based company like Apple provides jobs to app developers, programmers, IT engineers alongside data analysts, advertisers, marketing managers, and HRs. The tech side of the business revolves around creating unique products that are marketed and strategically sold by those involved in the non-tech side of the business.
If you have found your calling, it's time to enter the corporate world but only with the right kind of job. Now you can apply to the most reputed and innovative companies for tech/non-tech jobs at the click of a mouse button.
Thanks to AMCAT that brings 1000+ companies on board to hire fresh talent with impeccable scores in the AMCAT exam. Take your AMCAT today!