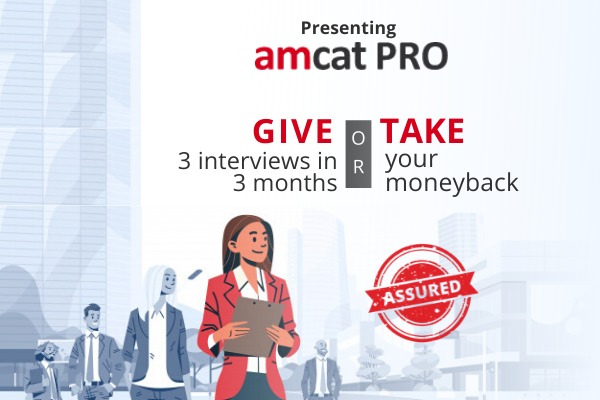 Are you thinking of starting your job search? If yes then, you are in the right place. AMCAT PRO is the right thing for you because based on your AMCAT score, we will send you at least 3 interview calls. And, not just that, through your AMCAT score you can show the recruiter how polished your skills are and that, you are ready to shoulder responsibilities associated with the job role.
Therefore, to help you get hired, here are 5 things that will help you find the job of your dreams
Find Out Your Strengths
The first thing that you should do to make your job search success is to introspect about your goals. Knowing your strengths and weaknesses will help you choose the kind of job and field, you want to work in. However, make sure that your dream job is an attainable and realistic goal.
With your AMCAT score, you will get a 14-pages long feedback report which will help you identify both your strengths and weaknesses. Moreover, because it evaluates you based on your skills, you can get an understanding of the areas where you can fully utilize your skillsets and abilities.
Create connections
Having connections can help you find more job opportunities. Moreover, you can even ask experienced people to endorse your skills and maybe give you a reference or two. Therefore, it is a good time to jazz up your LinkedIn profile. You can also use other social media platforms like Facebook to let people know that you are job searching. Job opportunities also come from referrals, so let your friends and coworkers know that you are looking out.
Customized Cover Letters And Job Resume
Before you start applying for jobs, make sure that your resume is updated and relevant to the job role. Also, in today's time, a resume is not more than two pages long. Here comes the cover letter to your rescue. In your cover letter, you can explain your accomplishments in more details. Plus, having a cover letter attached will give your resume an edge over others. You should only mention things that are relevant to the job role. Make your resume in such a way that the recruiter puts it in the consideration pile after just a glance.
If making a resume sounds difficult to you then, you can use Resume Buddy which has more than 25 types of resume templates for you to choose from. Moreover, it will make resume writing a piece of cake.
Apply For Jobs
Focus your job search on jobs that you are qualified for. Applying for jobs without reading or ignoring the job descriptions will not only waste the recruiter's time but yours also. Therefore, before applying for a job, make sure you are qualified for it.
Moreover, don't even think about sending one resume and cover letter to all the job roles. Tweak your resume as per the job requirement.
AMCAT PRO will send you at least 3 interview calls and not just that, with your AMCAT score, you can apply to exclusive job opportunities on the AMCAT job portal.
Interview Preparation
Start preparing for job interviews the moment you start applying for jobs. Preparing for the job interview beforehand can really make a difference. Rehearsed answers to common interview questions, be mindful of your body language, dress to impress are some of the crucial things that you should be careful about.
Giving mock interviews before the actual interview can help boost your preparation.
Mock-AI
evaluates your interviewing skills and gives you detailed feedback. It assesses you on your body posture, facial expression and voice modulations.
In these days of cut-throat competition, starting a job search requires skills and preparation. To take the stress out of job hunting, you can opt for AMCAT PRO: The Interview Assurance Program, where you will get exclusive job opportunities based on your skills. So, schedule your AMCAT right away and make your job search easy.