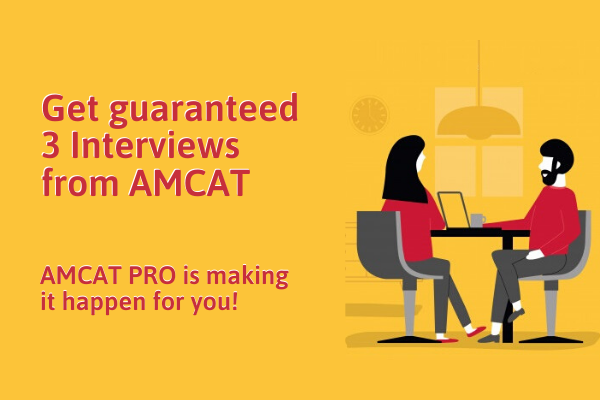 You might have already heard about AMCAT, the Aspiring Minds Computer Adaptive Test by Aspiring Minds that brings job seekers and recruiters under one roof. While AMCAT can be a great platform for you to find your dream job, AMCAT PRO goes a step ahead.
AMCAT PRO comes with a guarantee of minimum three job interviews in three months. Failing which, AMCAT will refund your money. Basically, we are creating a full-proof, fail-safe program for you to find your dream job.
However, when is the right to schedule your AMCAT exam? Is there any right time? And what if you fail to qualify for AMCAT PRO?
In this blog, we will try to answer all these questions and take you on an AMCAT journey.
When is the right time to schedule the exam?
If you are a 2019 batch candidate, then you should opt for AMCAT PRO asap. However, ensure that you are giving yourself enough time to prepare for the AMCAT exam because, at the end of the day, it is your score that matters the most and will open up new job opportunities for you.
There is no right or wrong time to schedule this exam as long as you are fully prepared and rearing to give your best. A good AMCAT score, ideally above 600 in all the modules, will ensure that you are eligible for the highest opportunities that we have to offer.

What if you fail to qualify for AMCAT PRO?
To qualify for any of the memberships, you need at least 400 marks in all the modules of the AMCAT exam. If you score lesser marks in any of the modules, then you will be rendered ineligible for the AMCAT guarantee of three interviews in three months or moneyback.
In such a case, your money will not be refunded to you. However, you can continue to apply for opportunities on the AMCAT jobs portal or choose to opt for AMCAT PRO again.
How to score well in AMCAT PRO
You need to set your eyes on a good AMCAT score if you want to enjoy the best of AMCAT PRO. And, that is why you need to keep these AMCAT preparation tips in mind.
Go through the syllabus – The first and foremost thing that you need to do is go through the AMCAT syllabus to understand what are the topics that you need to cover.
Segregate the topics – Now segregate the topics on the basis of how much you know about them, how much time you think you need to spend on each of the topics and which topics you think are tough and which are easy. This will help you come up with an AMCAT preparation game plan.
Have a timetable – No war, whether it be an actual, physical war or the war of leaving everyone else behind and emerging on top, is won without discipline. So, draft a detailed timetable and follow it to the 't' to fortify your AMCAT preparation.
Practice, practice and practice – Whether it be through sample papers or PrepAMCAT, you should practice as much as you can to perform well in the final AMCAT exam. Practising the solutions beforehand will tell you what to expect from the final paper and how to go about it.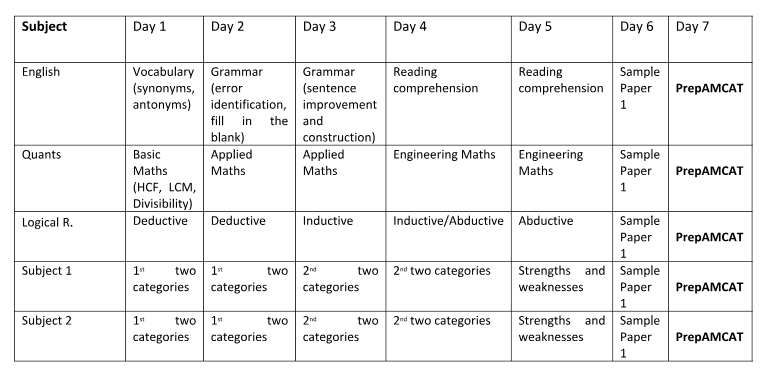 Conclusion
Now is the right time to schedule and book your AMCAT PRO and to excel in your job search. Aim for a good AMCAT score so that you can qualify for a good membership and are eligible for the highest salary packages being offered. And, enjoy all the benefits of the AMCAT guarantee of minimum three interviews in three months or moneyback.
All the best!