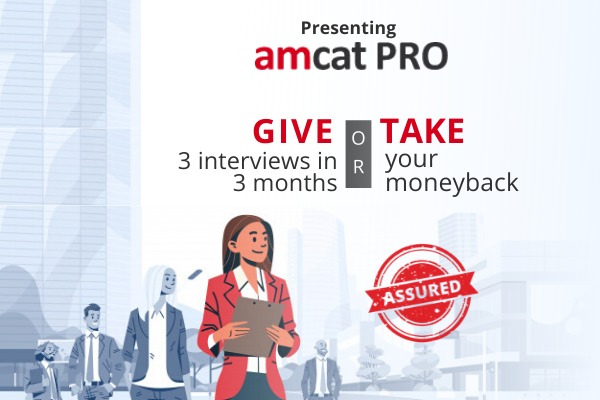 Aspiring Mind's AMCAT PRO: The Interview Assurance Program is here to help you with your job search. To make your journey a success you need to get a good score because based on your AMCAT score, you will be put into three categories: Gold, Silver and Bronze.
We will send you at least 3 interview calls within 3 months basis your score. Hence, it is important to prepare well for the AMCAT exam because the AMCAT PRO exam and the AMCAT exam is the same.
So now, the only thing standing between you and your promised interview calls is your AMCAT score. For that, here are some tips to get a solid AMCAT score.
Syllabus
Knowing the syllabus will help you understand the standards of the test and will give you an idea of what to expect in the exam. Moreover, you will be able to identify the areas where you might lack. This will help you to start gearing up for those particular topics. Hence, it is always better to know the syllabus and be well-versed with it.
Time Management
Because you have less than a month to ace your AMCAT exam, you should make sure that you are utilizing every bit of it. Moreover, keep track of your preparation and revision. Make a time table or a gameplan to save yourself from mixing up and repeating the topics.
Prepare Notes
Revising all the topics before the AMCAT exam can become difficult. Therefore, you should prepare a concise and to the point notes to revise important topics. These will come handy when doing last minute revision.
Don't Cramp
Unlike the usual exams, AMCAT is the exam of your skills and job readiness. Therefore, cramming won't really help you with your preparation. Instead, try to understand the concepts of the subject and practise as much as you can.
Solve Sample Papers
One of the most effective ways to ace your exam preparation is by practising. This will help you to a better understanding of the format of the questions and how much time to spend on each question.
Therefore, make sure to practice sample questions of each domain in the AMCAT exam
Mock Exam
Giving mock exams will get you to familiarise with the exam pattern of the AMCAT exam. PrepAMCAT is a great way to boost your preparation. The simulated version will help you identify your weaknesses as well as manage time.
Even with less than a month, you can still get a good AMCAT score with the right strategies. So, if you want to get assured job interviews, then AMCAT PRO is the thing you need.