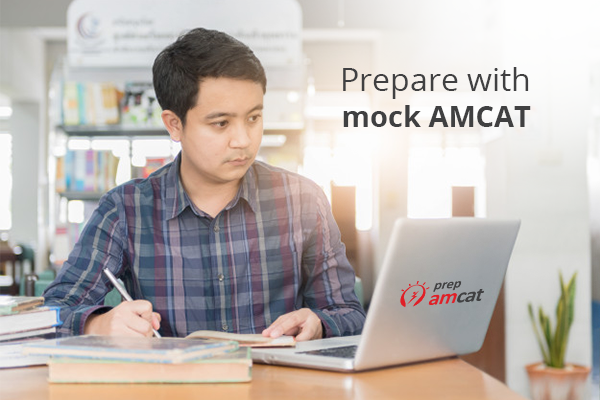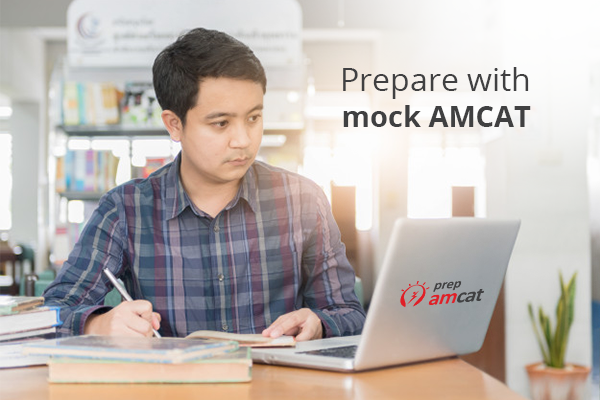 If you have already scheduled the AMCAT test but are skeptical about your amcat preparation then worry not.
Remember that you are not alone in this journey and we are here to help you. And, the numerous doubts and queries of you, our dear candidates, has inspired us to come out with our own mock test for the AMCAT exam.
Since the inception of AMCAT, we have had so many students asking how to best prepare for it. With the competition ever on the rise, the need and the pressure to do better in the exams went up. However, there was no official material to guide the students through.
Keeping in mind the need of the hour, we finally decided to launch PrepAMCAT; the mock test that can help you with you amcat preparation as well as consecutive exams in the future.
PrepAMCAT – your ultimate AMCAT preparation tool
When it comes to AMCAT preparation and checking your readiness for the final exam, there is nothing like PrepAMCAT.
PrepAMCAT works on the same principle as the AMCAT exam, that is, it is an adaptive test that adapts to how well you answer the previous questions.
If you answer the questions correctly, then the level of questions being asked will go up. However, you will have the chance of scoring more marks with each correct answer.
Similarly, when you answer incorrectly, the toughness of the question goes down but then each correct answer gives you significantly lesser marks.
Apart from this, there are many more ways in which prepAMCAT can help you with your AMCAT preparation…
Effective time management
Even when you attempt sample papers, there is always something lacking. You don't have the countdown running at the corner of your screen, ready to block you out the moment it hits zero.
However, with prepAMCAT, you are bound by time and thus get a better idea of how fast or slow you and your problem-solving skills are.
PrepAMCAT gives you some idea on how to distribute your time effectively during the final exam and which are the questions that require more time and attention.
That being said, you will also get some idea on which sections or type of questions you can hurry through.
Understanding the module
You might have been devoting an equal amount of time to each section of the different modules. However, it is only when you give the exam that you truly understand what type of questions to expect from each module and what more can you do score better next time.
Since the questions asked in PrepAMCAT are picked from previous AMCAT question papers, you can get a clear idea of what to expect from the AMCAT exam.
Also Read: AMCAT Previous Years Papers For Computer Science Students
Figuring out your strengths and weaknesses
What can better way there be to figure out your strengths and weaknesses than to be in an environment that will test both?
PrepAMCAT gives you ample opportunity to see where you are failing and where your preparations have actually borne fruits. AMCAT asks you to focus on your core skills and prepAMCAT reflects the same.
The idea is that if you are clear on the basics, then you will be able to solve any question, no matter what. And once you have worked on your basics, whether it be an MBA exam or any other competitive exam, there is no dearth to what you can achieve.
PrepAMCAT is a brilliant AMCAT preparation tool but we ask you to not restrict it to that. Yes, prepAMCAT can help you prepare for the AMCAT exam, it can help you score really really well (given you understand how you performed and where you need to work more) but the best thing about prepAMCAT is that it can help you prepare for most competitive exams. It will wriggle you, dust you, let you dry but test you to help you know your skills better and ultimately perform better.