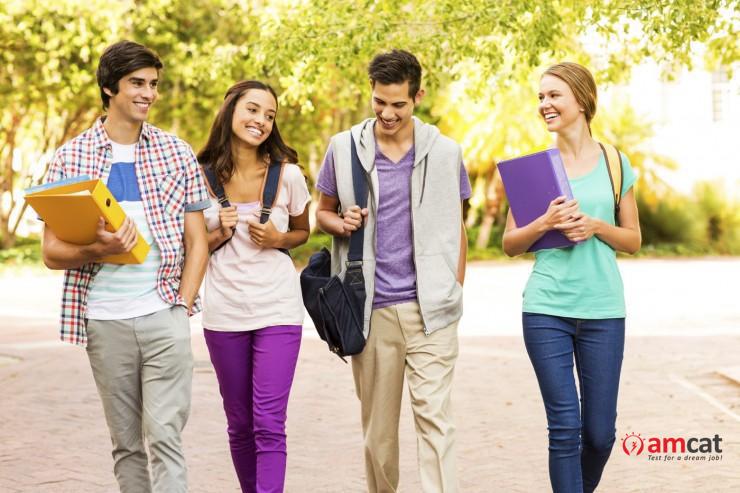 We often get a lot of messages and testimonials from students that AMCAT helped them change their life and get the job they always wanted. That it opened loads and loads of newer opportunities for them and guided them on the path of success.
However, the reward for our hard work really paid off (or so we think) when the people guiding these students stepped forward to appreciate the efforts of AMCAT and Aspiring Minds.
Appreciating the scientific assessment by AMCAT
AMCAT and Aspiring Minds has always believed in talent and skills over marks and academic background.
With the humble goal in mind, that was to bring recruiters and candidates under one roof and give both a chance to connect purely on the basis of talent, the foundations for AMCAT was set.
When the placement officers and deans from various colleges recognized that, we were humbled and proud.
Mr. K S N Raju from VNR Vignana Jyothi Institute of Engineering and Technology said that, "AMCAT is a brilliant scientific assessment platform that assesses students' employability and creates employment opportunities for the students."
He further added,
"It also gives insights on training needs to the campus management. We have been conducting AMCAT for the last six years now and it has helped our students to improve and get good jobs."
Dr. N V Balaji from Karpagam College of Engineering adds to that and says that,
"All the products by Aspiring Minds have proved to be very helpful in preparing the student for placements. I'd like to thank Aspiring Minds for bridging the gap between industry and students."
Thank you, thank you, you both!
Aspiring Minds also offers other products, namely Mock-AI and Resume Buddy to assist students in their overall journey through campus placements and off-campus placements.
Let's see what people have to say about these products…
Working on the soft skills with Aspiring Minds
Colleges and schools often focus on how much the student is scoring in class, whether they know the text or not but they forget to pay attention to the soft-skills of students.
While hard-skills are important, soft skills are what guide a student on the path of success and is a requirement of every industry. AMCAT and Aspiring Minds, together, focus on these soft skills, and with the help of Mock-AI, they have brought the importance of soft-skills to the fore.
Aptitude, verbal reasoning, soft-skills and personality, all these together form the roadmap to success and Dr. G M Malwatkar from Government College of Engineering recognizes that. He says,
"AMCAT provides analysis on weak areas of students and helps them improve at an early stage. Placement strategies can be improved with the help of Aspiring Minds' assessments."
Dr. V Parthasarthy for Vel Tech Rangarajan Dr. Sagunthala R&D Institute of Science and Technology adds,
"The Mock-AI tool of Aspiring Minds is an exemplary tool which aid students in grooming themselves with adequate knowledge to confront interviews during on/off campus drives."
The periodic assessment of Mock-AI helps students confront their strengths and weaknesses and the study material provided at the end, gives them means and reason to pull all their strength together and work to accomplish their goals.
WOW!
How has Aspiring Minds actually done its work?
Conceived in 2008, Aspiring Minds only grew since that day and worked tirelessly to assess and place students.
As Dr. Babita G Katarrea of Bhagwan Parshuram Institute of Technology puts it-
"AMCAT's feedback report is so marvellous that it helps the candidates to work on and transform their skills and get ready for the industry."
She further adds how AMCAT's restless and constant efforts have actually improved the students with every batch and upped their chances of landing a marvelous job, manifolds.
To, this Mr. Joshua Roy of Shri Ramakrishna Engineering College agrees and says that
"While the confidence level of the students has improved, so has their performance. The micro level reports have helped us in tailoring training sessions for out student."
The result being – better equipped, better-prepared students, who know how to step up, grab an opportunity and make it theirs.
The brilliant feedback from these esteemed people in their respective industries has left us baffled, humbled and inspired. Our hard work seems to be paying off, and we promise to keep working to get talent and skill the constant recognition they deserve and keep guiding students to outperform themselves.