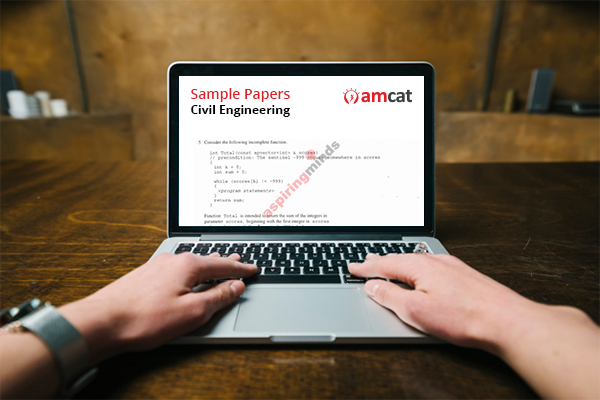 AMCAT preparation is necessary to score in your AMCAT exam. The amcat exam is popular for the level base it provides to recruiters while evaluating candidates applying for same or similar jobs. Taking the exam is an added benefit for freshers as big names in the market accept AMCAT score while hiring employees for their organization(s).
Taking an AMCAT exam is beneficial as it helps significantly in clearing the first round of selection in a given company. That's because the exam is of all-inclusive pattern, testing students on various parameters including quantitative ability, language skills, logical reasoning, and the core subject of the candidate.
In this segment, we will discuss amcat preparation for civil engineering students and how they can utilize previous years' papers to score well.
While all other modules are same for all, the core module needs to be focused on. To score well in the civil engineering module, one needs to start giving attention to their AMCAT preparation.
AMCAT preparation for civil engineering students 
AMCAT preparation is no rocket science but, it can't be taken too casually as well.
You need to put in your hard work, dedication, and learning skills all together to get the best results.
Always start with the basics and compulsory parts.
It includes being up to date with day to day happenings around you and the world, pretty good language skills to score well in the English comprehensive module, and fair practice of logical reasoning.
And then you need to prepare for the compulsory and most important module:  core civil engineering.
The question now arises: What all to study to score well in the civil engineering module? There are two basic and yet most vital things you need to consider:
The syllabus & the pattern.
AMCAT previous years papers.
AMCAT Exam pattern for Civil Engineering Students
A total of 40 questions are asked in the optional module that is divided into three categories. You get about 25 minutes to complete the module.
The three categories and their sub-categories are mentioned below:
1.     Structural Engineering

·         Applied mechanics

·         Strength of materials

·         Building materials and construction

·         Theory of structures

·         Steel structures

·         Concrete technology

·         R.C.C. Design

2.     Geo-technical and Water Resources Engineering

·         Soil mechanics

·         Hydraulic engineering

·         Water supply engineering

3.     Transportation Engineering and Surveying

·         Highways engineering

·         Railway engineering

·         Estimation and costing

·         Surveying
Clear understanding of the concepts is integral to the test structure. To know better about the pattern, it's best to refer to some previous year AMCAT exam papers.
For example, you know that you will be questioned about railway engineering, but can't understand what type of questions will really make it to the test.
A look at the previous year papers will provide you this question:
Which of the following activities is/are a constituent of track construction?
Earth work
Ballasting
Plate laying
All of the above.
This is more beneficial than just knowing the topic isn't it?
Just like that, you can find several questions from different categories in the previous year papers.
So, when do you know you are all prepared? What about taking a mock preparation test?
Yes!
PrepAMCAT lets you take a pre-test to help you decide if you are all set. It gives a green signal to you to take the final test and saves you from a second attempt (for scoring better) by doing so. If you feel you aren't prepared yet, you can post-pone your test for a while.
Conclusion
The sample papers make AMCAT preparation really easy and moreover it adds relevance to your preparation. When you know the pattern and type of questions, you can focus better on the topics that occur frequently.
The AMCAT sample papers and previous years question papers are available on the official AMCAT website.
Also Read: AMCAT Previous Years Papers For Computer Science Students