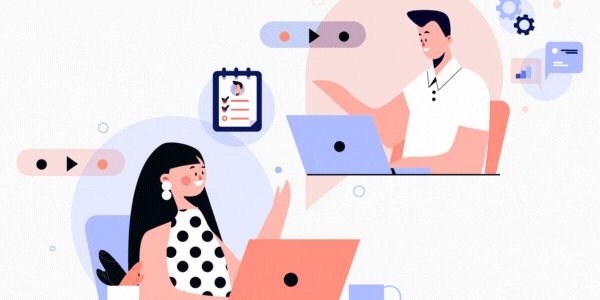 Candidates can assess their current level of ability and pinpoint their inadequacies by participating in a mock interview. In addition, individuals can test their conversational skills and gauge how effectively they respond under pressure by mimicking an interview scenario. As crucial as technical knowledge and logical reasoning are verbal and business communication skills are also equally important.
Therefore, the purpose of a mock interview is to give prospective applicants a way to evaluate their current state, which will affect how they perform in the actual interviews.
What is a Mock Interview?
An actual employment interview is simulated in a mock interview, which is sometimes referred to as a practise interview. It gives job searchers a chance to prepare for interviews and get feedback on their interviewing techniques.
A practise interview for a job interview is all that a mock interview actually is. You can practise answering challenging questions in this environment, develop and refine solutions, and improve your verbal and nonverbal communication abilities.
Types of Mock Interview
On-site practise interviews are offered by a lot of college career centres and career counsellors. If you're a college student or recent grad, ask your employment office if they provide live, recorded, or phone mock interviews.
A career coach or counsellor is another alternative if you are not connected to a college or university to practise interviews. Furthermore, inquire at your area library; some provide free interview preparation and coaching.
You can schedule a meeting with a mock interviewer and provide them details about the firm you are interviewing with specifically or your general career field. They can use this information to develop mock interview questions for a mock interview that will eventually be asked during your real interviews.
Benefits of Mock interviews
By taking part in mock interviews, candidates can lessen their worry and anxiety. Since there are no consequences for performing poorly in these interviews, applicants can practise their responses and receive the necessary feedback. Candidates can redo or retake their interviews, unlike in real interviews.
Mock interviews are a terrific way for you to "test drive" your responses if you're unsure of how to respond to common job interview questions. Your responses will be evaluated during the mock job interview to determine whether they are appropriate or not.
As the mock job interview progresses, the interviewer might point out your strengths and faults, giving you opportunity to fix the weaknesses and build on the strengths. You will do better in the actual job interview if you are confident in your abilities.
No one is perfect, mock interviews allow you to refine your responses to specific questions and focus on any potential weak points. A mock interview is a great way to figure out why you might be having trouble getting your desired job because you rarely receive feedback regarding your interviewing skills in a real job interview.
How to Prepare for Mock Interview Questions?
You should treat a mock interview as seriously as you would an actual job interview even though it is merely a practise session. Think of the fake interview as a practise run. To ace your mock interview, keep the following in mind:
Choose the right interviewer
The ideal mock interviewer should be chosen. It's simple to ask a friend or a family member, but if you want unbiased feedback, you might want to ask someone who has conducted job interviews before. You could also pick an expert from your industry.
Dress appropriately
Dress in the same manner as you would for the actual interview. Because wearing business-casual attire might make a good impression on the hiring manager, your look matters throughout the interview. Prepare for both in-person and video interviews by dressing professionally. As part of the assessment procedure, your mock interviewer should assess your business attire so you may get feedback on how you present yourself.
Bring your resume and other necessary documents
Bring your resume and any other documents you may require. Bring a notepad as well so you can record the remarks from your mock interviewer.
Bring copies of your portfolio, CV, and any other required documentation to the interview, just as you would for a real one. In order to improve what you bring to the real interview, your mock interviewer should be able to give feedback on these materials.
Choose a professional setting
You need a setting that replicates an office setting. You may keep your attention on your comments and interactions with the interviewer if you feel at ease during the interview. To get comfortable with your surroundings, try to make the interview situation as similar to the real world as you can.
When getting ready for a phone interview, pick a location with good reception that is peaceful. If you're using a cellphone, be sure it has a full charge. Since a recruiter will call you, set a time for your mock interviewer to call you.
Take time before answering the questions
You can carefully analyse interview questions and prepare thoughtful responses that speak about your qualifications and talents using mock interviews. To provide the interviewer specific examples of your skills, try to apply the STAR approach for as many of your responses as you can. When applying the STAR approach, you give a response that incorporates the following components:
Situation: Describe the circumstances surrounding the events you are addressing.
Explain how you fit into the circumstance.
Action: Clearly describe what you did.
Result: What happened as a result of your actions?
Top Mock Interview Questions and Answers
1. How would you describe yourself?
The interviewer doesn't necessarily want to hear about your personal history. This is your chance to discuss how your education, experience, and skills are relevant to the position you're applying for.
2. What do you know about the company?
Here is where you may use the information you learned about the company. Prior to the interview, be sure to research the company a little more. Learn about its culture and mission.
3. Why should we hire you?
When you are asked this question. Do not forget to explain how your knowledge and talents are a good fit for what they're searching for in order to respond to the query. You can also talk about your professional goals and how you might help the business achieve its objectives.
4. What are your strengths and weaknesses?
Think on your accomplishments or abilities that are relevant to the job while discussing your strengths. Be sure to include how you've worked to strengthen any weaknesses which you had mentioned.
5. Where do you see yourself in five years' time?
It would be appealing to respond that your goal is to go up the corporate ladder and become a senior manager in five years, but a more interesting response would be to discuss the skills you want to further develop or enhance over that period.
6. Tell me about a time when you made a mistake?
Describe your error. Explaining your error in the beginning of your response. Admit your mistakes and accept responsibility for your actions. Pick a mistake that you were able to correct while selecting a situation.
7. Tell me about a time when you had to deal with conflict?
There are various reasons an interviewer can ask you to describe a time you encountered conflict at work. The main goal is to ask you to demonstrate how you handled a challenging scenario at a previous job and your contribution to a successful outcome.
8. What can you offer us that other candidates cannot?
Remember when you answer this, keep it about yourself just because you're explaining what could make you the better fit for the job, don't make the mistake of talking badly about others. Talk about your strengths. Also, to correctly answer this question, you need to properly describe your strongest attributes.
9. Do you have any questions for me?
You have the chance to ask thoughtful questions now, showing to the interviewer that you have done your research and are truly interested in the position while also learning more about the organisation.
If you're looking for something along those lines as well, AMCAT is here to help you out with one of its most helpful products, Mock-AI.
Job interviews have never been simple. Whether you've had an interview a hundred times or never, you're likely to have the same anxiety before one. Using cutting-edge machine learning and Artificial Intelligence technology, Mock-AI analyses your body posture, facial expression, and speech modulation. Mock-AI can help you prepare for interviews.
You can take a test for a job interview and provide real-time answers in a supportive setting thanks to Mock-AI. After finishing the test, you will receive a thorough report outlining how you did, where you made mistakes, and what you can do to improve for next interviews.
This platform first conducts a live interview with you before allowing you to respond to the questions using your webcam and microphone. The third stage uses machine learning algorithms to analyse your audio and video responses, and the last step provides you with a detailed feedback report that is 6 pages long so you may focus on your areas of weakness.
FAQs
Q. How should I prepare for a mock interview?
Ans. One can prepare for mock interviews by practising common mock interview questions and answers.
Q. How do I pass a mock interview?
Ans. You can start preparing for the mock interview depending on how hard the real interview is. Some mock interviews might require weeks of preparation while some only demand a few days of preparation.