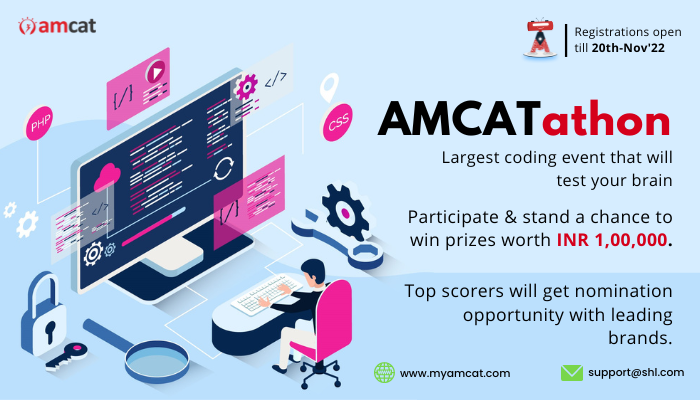 AMCAT is excited to announce the launch of the most recent version of the Virtual Hackathon 2022, which invites tech enthusiasts, gifted developers, engineers, and designers to show their coding skills.
With the second version of our hackathon series, we are back to challenge you! 2nd edition of the biggest coding contest i.e., AMCATathon is live! AMCATathon will be the largest coding event that is going to test your brain. This year it is twice as challenging and thrice as rewarding as compared to the last time, so do not miss the chance to be a part of it.
Why should you participate in Coding Competition?
By taking part in coding competitions, you can increase your creativity and learn new ways of thinking.
Hackathons enable you to develop collaborative skills that will help you when you enter the corporate sector.
Coding competitions' helps teenagers in computing their capability outside of the classroom and help them understand the value of open collaboration.
Register for AMCATathon 2022 | Largest Coding Event and stand a chance to win prizes worth INR 1,00,000/-
All that you need to know about AMCATathon 2022!
AMCAT's AMCATathon is a 5-day long event where students from all around can come to participate in a unique online coding contest from the 22nd to the 26th of November. This is going to be the largest coding event that will test the participants' brains and is meant to evaluate the contestants' cognitive abilities who want to come and get a chance to be nominated for opportunities with leading brands. It will be open for students of batches 2020 onwards where both tech & non-tech students can participate. The results of this event will be announced in the first week of December.

Once you will register for AMCATathon, prepare yourself for 2 rounds – round 1 will be Logical Reasoning and round 2 will be Coding and Debugging.
Round 1 will be of 25-30 minutes. In this round, the participants need to give a basic logical ability test which comprises of 12 questions. The participant who'll qualify in this round will only be able to participate in the final round. Exhibit your logical abilities now to qualify and move to another round. If in case you won't be able to make it to round 2, you'll get a message on your screen saying, "Thank you for your participation."
Round 2 will be of 120 minutes. This is the time to showcase your coding skills and win exciting prizes. In this round, the participants will have to debug and successfully run two automata problems. The participants can choose any programming language of their choice. The participant who debugs both the codes successfully will be the winner!

Benefits for Participants:
Top scorers will win prizes worth INR 100,000/- (first prize will be VR Headset, second prize will be LED TV, and third prize will be Home Theater, etc.)
Top 50 scorers will receive a skill certificate. A code will be provided to the winners using which they can select a technical certificate like Java, Python, Web Development, etc.
Top scorers will get a chance to get job nomination opportunities with leading brands.
Top 50 scorers will receive the certificate of participation online, once the event is over.

Terms & Conditions:
Only the registered candidates are eligible to participate.
Please note that winning metrics are your exceptional performance in the contest. The better the code will be, the better you achieve.
Graduates of batch 2020 and onwards are eligible to participate.
AMCATathon is a coding contest. Therefore, only those with sound technical skills and interests must opt for it.
Please note that the coding modules are auto-proctored. Thus, your candidature will be considered as rejected if you are caught changing the tab or are attempting to cheat.
No applications will be accepted once the registration is closed.
Don't wait! Sign up right away to give your career the boost it needs! Be prepared to receive the award you deserve. We wish you all the best.