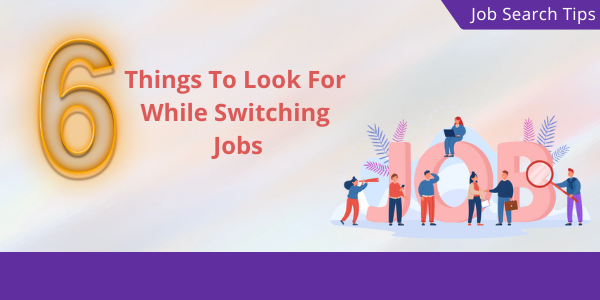 That time is gone now when anyone who used to begin their career would join a company and will remain intact with that organization, until retirement. Now is the time, when anyone working in the job sector, gets tempted as soon as they see an exciting opportunity coming their way. Who wouldn't be, right? Earlier people used to think it through every time whenever they used to get a thought of changing their job, and they used to have multiple thoughts around the same as one wrong decision can take a person back by a couple of years, due to which one may not be able to get back on the right path for a long time. But, one correct decision can transform the entire situation and can take you forward on the path of promotion, incentives, and increments! Hence, these days people decide on changing jobs a lot more as compared to before, in order to grow further in their career.
There are various valid reasons for the same, we are going to talk about them below:
Salary Hike
This is one of the most common point to be considered while looking for a job change, an increase in salary is a primary factor that motivates an employee to change their job. Is it correct that I'm receiving the accurate compensation, that I'm worth? This question comes to the mind of every individual, who is working in the corporate sector. This being a critical issue, a big part of feeling valued consists of being paid what one is worth—at or above the normal business sector rate for their work.
Career Growth
Studies have shown that the majority of candidates, change their job/have already changed two or three jobs where the primary reason has been better growth. However, when a candidate is given an opportunity to ask questions at the time of the interview, at that time they do not ask a single question related to growth opportunities. This clearly means that they accept the job offer without understanding completely what is in it for them, and the chances of their disappointment are high due to which they will be back in the market after 2-3 years looking for a job that offers better career growth.
Location of the new office
A lot of people make this mistake while accepting a job offer. They do not think about it practically and this is one area where a lot of candidates make mistakes. One must always consider the time it will take to commute; hence it is important to be clear about how much extra travel time they will have to put in as compared to before. Since it is usually seen that travel time is not an issue with most people at the time when they join a new organization as the enthusiasm is high at that time. After a period of time, when the enthusiasm fades off, long hours of travel become one of the major issues.
Workplace Culture
One must practically analyze the work culture of an organization since different organizations have different cultures and this is something of utmost importance, always make sure to check if you will be comfortable working in such a culture before accepting the job. Always remember that you need to spend approximately 9 hours 5-6 days a week in the office. Only join a company with a work culture that you feel comfortable with.
Notice Period
A lot of candidates do not consider this point important at the time of changing a job, but they realize the importance of it at the time when they again look for a change. Some organizations have increased their notice period to three months now, this can act as a barrier at the time of job change since the new organization will not be ready to roll out an offer because they cannot wait for three months for you to join. We would like to share a thumb rule with you, do not accept an offer letter with a notice period of more than 60 days.
Register for AMCAT | India's Leading Fresher's Assessment And Job Site (myamcat.com)
Benefits Offered
Just like the salary offered plays an important role, so do the benefits offered. A job seeker must enquire about the benefits a company offers at the time of switching a job. Every company has its own set of policies when it comes to holidays and leaves along with some other benefits such as flexible timing, work from home policy, medical benefits, etc.
Always remember to enquire about them if you decide on accepting the offer letter from an organization.
The above points will help you make correct decisions in choosing a suitable job offer and avoid making any mistakes, by considering the advantages and disadvantages of changing jobs.