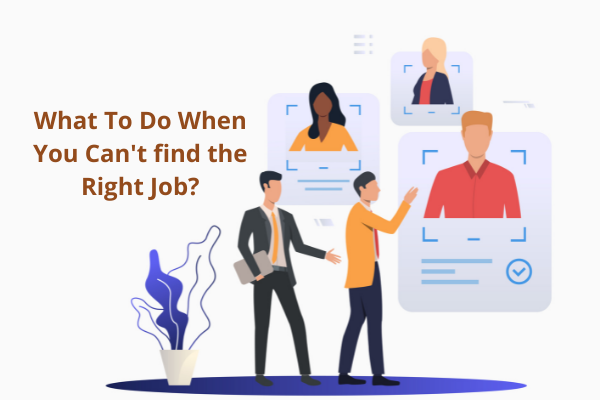 The success of finding the right job is influenced by your qualifications, the current employment market, and your approach to job seeking. You might be wondering why your searches haven't given results and what you can do about it. We have listed out reasons why you can't find a new job in this article, along with specific steps you can take to enhance your search.
Being unplanned in your search
Job hunting is a time-consuming process that demands dedication, perseverance, and persistence. If you're putting in minimum effort or applying for jobs with hardly any preparation or follow-up, it could be the reason you're having trouble finding work.
Scheduling time in your daily calendar for job hunting can be a useful first step towards putting in proper search efforts. Set a clear objective for yourself, such as applying for one job every day or three jobs per week.
Not researching and preparing well for the interview
It's likely that your interview responses don't convey enough knowledge about the position, organization, or sector, which is why you can't get a job. Employers want to know that you are fully prepared for the job, including understanding the company's mission and all of the duties.
An important part of the job application process is to thoroughly study the position, company, and industry. This can be based on looking at the organization's website, consulting professional organizations, or asking questions of colleagues who are familiar with it
Leaving yourself open to many kinds of job
Are you submitting applications for the correct jobs? Many people, frequently, fail to select occupations that best match their skill sets. They also fail to appropriately highlight the appropriate talents in their resumes at times. Remember that most hiring managers will just spend a few minutes reading your CV.
If it doesn't attract their attention within that time frame, it is discarded. Make sure your most relevant talents and experience are those that are required for the job position and emphasize them in your summary statement.
Register for AMCAT | India's Leading Fresher's Assessment And Job Site (myamcat.com)
Ineffective networking
It's often more about who you know and how you leverage those ties than it is about what you know in a job search. You may be unable to find work because you are not properly using your personal and professional networks for connections, job leads, or application support.
In such a case, you must reach out to former employers or coworkers who may have connections to positions you're interested in as you start your job search or application process. They may be able to link you with opportunities if you provide your CV and information about what you're looking for. It's also a good idea to go to networking events.
Not building your digital presence
Even before you begin your search, this is one of the steps you should take. Most firms use social media sites not only to recruit but also to cross-check candidates before hiring, it's a good idea to be aware of and maintain your entire social media footprint.
Another key point to remember is that the content of your CV and your LinkedIn page should never be out of sync. Maintain it at all times, by making sure there are no discrepancies in the years of experience, postal address, misspelling, or other information. Recruiters may be put off by the ambiguity.
These days there are common websites and platforms using which candidates apply for jobs, which creates a pool of applications on that platform. As a result, relevant CVs goes unnoticed, and the desired candidate does not even get a call despite meeting all the required factors and excellent qualification.  This leads to zero chances of your CV being noticed, in order to keep you safe from this we have AMCAT for you, that follows a fair and unbiased process. If you are interested in knowing more about the same, you must click here.