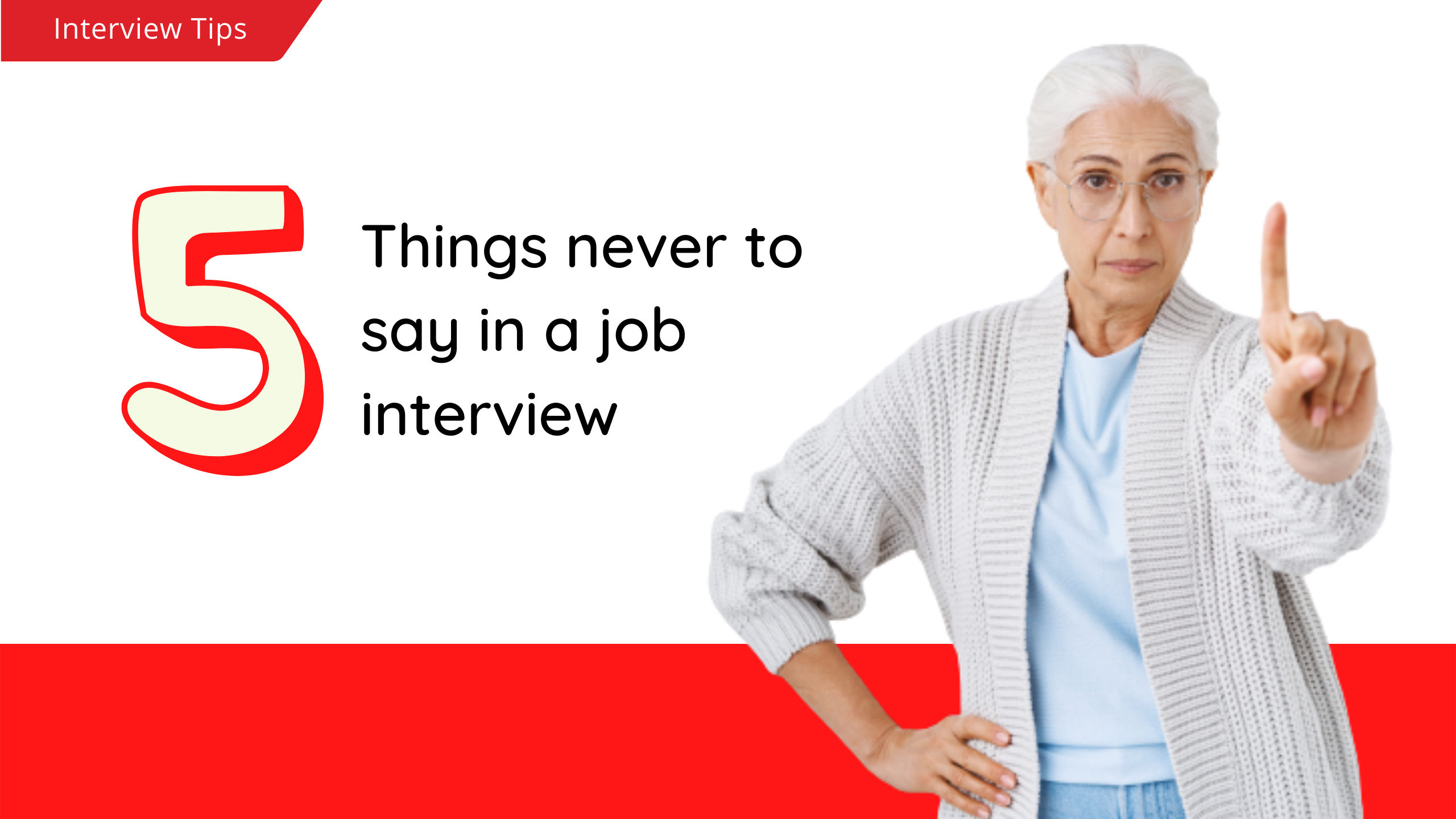 Did you know that knowing what not to say is just as important as knowing what to say in a job interview? Most job seekers are obsessed with saying the right things, but they are unaware that some of their responses or remarks may damage their chances of securing a position. Below are some things you should never say.
What do you do around here?
Always make sure you have questions for the interviewer, and stay away from asking about the company's business. Answers to this question are usually easy to find through prior research, and it's important to prove to the interviewer that you've spent time researching the firm and the position you're looking for. Before your interview, make sure you understand the company's purpose and vision statements, as well as what they do to accomplish them. You will be able to ask more detailed questions about the company if you do so.
I'm really nervous
The interviewer may ask you a question you weren't expecting or to which you don't know the right answer. This could be an excellent chance for you to exhibit your critical thinking and problem-solving skills. You can tell the interviewer that you need a moment to think about your response or that you need more information to put together an appropriate answer.
Even if you are nervous, keep it to yourself since no one wants to hire anyone who lacks confidence.
Register for AMCAT | India's Leading Fresher's Assessment And Job Site (myamcat.com)
Nope – no questions
Even if you've done your homework on your potential employer, you should still ask questions about the job and the company. This shows your genuine interest in the job while also showing to the interviewer that you have expectations about which job you should accept. By asking questions, you will gain a better understanding of what the job entails and whether or not you want the job in the first place.
I didn't get along with my boss
"Why are you seeking for a new job?" can be one of the questions the interviewer asks. "What didn't you enjoy about your past jobs?" or "What didn't you like about your previous jobs?" Answering these questions in a professional and pleasant manner, without mentioning anything negative about your prior company or career, or boss demonstrates your capacity to remain professional and positive in any situation.
Positive responses to these questions might help in reassuring the interviewer that you'll fit in well with their business culture and that you won't say anything negative about them in the future. When responding to inquiries regarding your prior workplace, try to emphasize what the position you're going for that your previous employer wasn't able to offer.
I know I don't have much experience
Improving your qualifications or experience is the last thing you want to do. Employees have been terminated on the spot or even charged for dishonesty in the past. That's why you should be as honest as possible when answering questions. You can still get the job if you are a good candidate, also if you lack a certain skill they need. Let the interviewer know that you can learn the skill or that you have relevant experience that will enable you to quickly learn the essential expertise. Keep in mind that you're in this for the long haul.
Make sure you have a strong CV to ensure you obtain the interview in the first place. Use AMCAT's Resume Buddy to construct a job-winning resume that will ensure you get the opportunity to put your interview skills to the test!