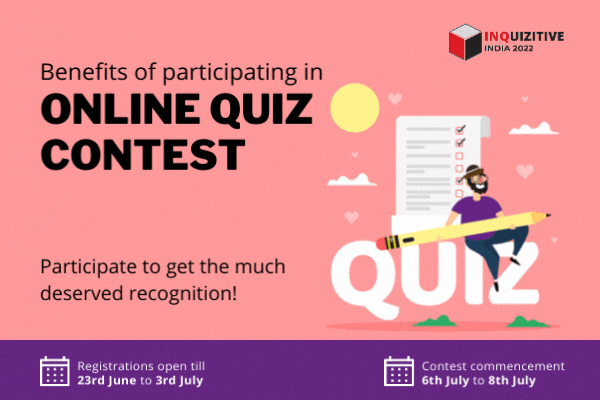 Wondering how to make your presence right from the beginning of your career in this fast-paced world? As we all know the time in which we are living today is extremely fast and based a lot more on technology compared to what it used to be 10 years back! The demand of today's time is such that, each student needs to make their presence right from the beginning of their career, by participating more in any sort of quiz or competition. The best part is that ever since the pandemic came, everything has turned into digital mode hence giving more chances and opportunities to students to register and participate in maximum number of quizzes possible. All they need to do is be active on different social media platforms and continue following pages, and links and sign themselves up for all online competitions. Also, keep an eye on your mailbox and do not miss any email which is sent to spread the word about the upcoming quiz. 
Also, those who have ever participated in any such events know that the kind of immense exposure they get is a lot more than the regular offline contests and quizzes. Any organization or company that usually conducts such competitions uses different marketing strategies to promote the contests. If in case, you would want to come into the limelight, then you should not miss the opportunity and must give your best shot in the AMCAT's upcoming quiz. If you get lucky enough and win the competition, you'll get the exposure way more than you have ever thought or imagined!  
This online quiz can very well work as icing on the cake for students and can help them to enlighten their future. Any such competition will always help the participants to stand out from the crowd as it can be added as a plus point in the CV. All that the students need to do is update all the contests in which they are participating in their resume, which will function as an online proof and will help in creating transparency between them and corporates at the time of any job interview.  
Register for Iquizitive India | India's Only Online Quiz Contest for the Nomination of Job Interview along with the cash prize of INR 20K
Let us now talk about some more relevant benefits of participating in any such quiz: 
To make it very easy to understand and precise, any quiz or competition helps in strengthening one's IQ and helps in being prompt and active while giving the answers.

 

It is a good exercise for the brain to participate in quizzes not only when you are preparing for some competitive exam, but also in a normal routine so that brain cells also get to sharpen up from time to time. 

 

Such exercises help in becoming proactive and building self-confidence to handle stressful situations with ease. Since the questions in any such quiz are usually based out of regular academic syllabus and require critical thinking, which puts a participant's mind under stress. So, if they can accomplish this, then they can easily overcome any tough situation.

 

Any such quiz is highly relevant since they help the candidates to get a chance to practice. In today's time, these quizzes are platforms where students are not just participating to win a prize, but also to gain knowledge, and seek opportunities to excel in other areas apart from academics. Hence, participating and practicing more is the best practice to secure a bright future. 

 
These quizzes also help in having an experience close to a real exam, help a candidate in increasing speed and accuracy, help in overcoming any technical issues, and most importantly it helps in boosting self-confidence. 

 
Are you interested and looking for any upcoming quizzes? Let us take you through and introduce you to the most awaited PAN India contest of AMCAT "Inquizitive India 2022" 
By participating in this contest, you will not just have the opportunity to win the astonishing prizes by showcasing your knowledge, other than that you can also use this opportunity to be nominated for a job interview with leading companies on the myamcat portal.
Do you think that you are smart enough? Do not wait, register now, and let us check up on your IQ on the day of the quiz! This is not just it; all the winners will be getting amazing prizes based on their cognitive skills & abilities. Do not forget to join us on 6th July, for testing your skills in this fun-filled quiz and win what you deserve! 
All the details that you need to know about Inquizitive India 2022 Quiz are here: 
Eligibility Criteria: 2021, 2022, 2023 pass out candidates 
Registration Dates: 23rd June – 3rd July (https://bit.ly/3QBYl2l) 
Contest Commencement: 6th – 8th July 
Result Declaration Date: 14th July
Steps: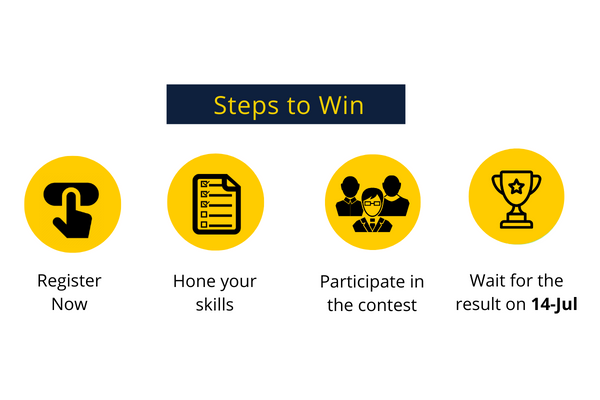 Prizes: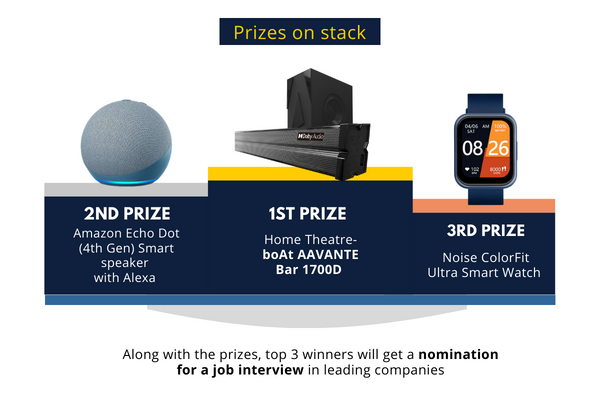 Do not wait for another second, register now, and build your competitive spirit! Be ready to win the prize you deserve. All the best!