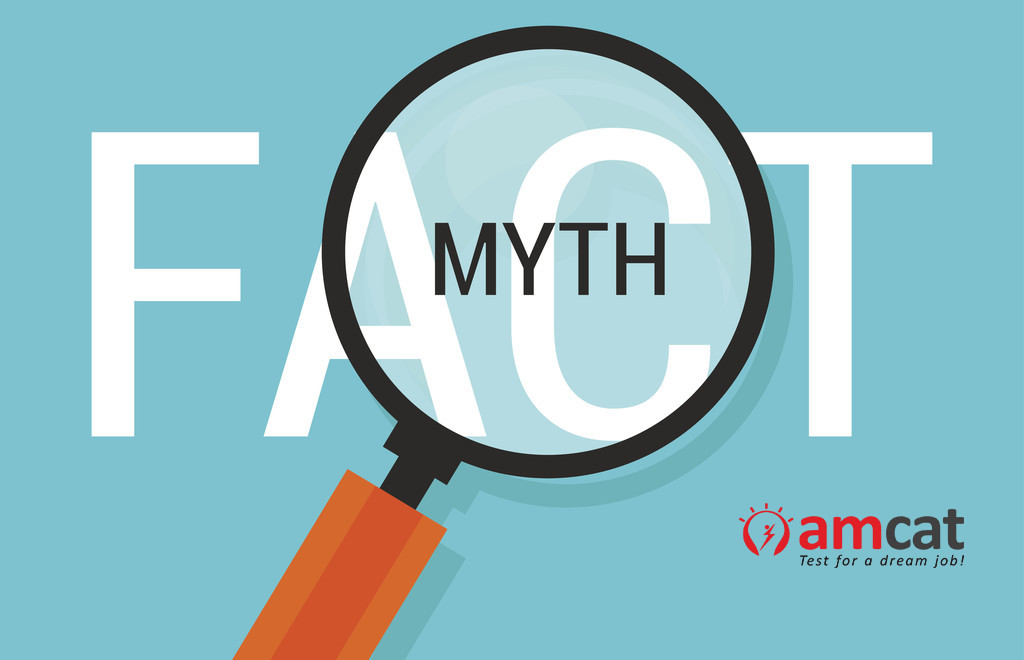 The AMCAT exam provides job seekers with the opportunity to seek out their dream job despite all odds. Whether you are from a great college or not, whether you have scored well in all the semesters or not, all these things take a little back seat when your skills do the talking. And, that is why the AMCAT exam is so important for anyone ready to showcase their skills-set and impress the recruiters.
However, there are a few myths attached to the AMCAT exam that you need to be aware of and get yourself rid of to make the most of it –
Myth 1: The AMCAT exam is only for engineers
Yes, we do admit that sometimes we have been a little partial towards the engineers but that is rapidly changing. AMCAT is not just restricted to students from the engineering background; it never was.
Students who have just completed their MBA or non-IT professionals or even those looking to make it in the hospitality industry can now seek out the AMCAT exam to get where they want to be.
The AMCAT exam hosts a lot of job opportunities for people from all spaces of their career and fields. As such, it would be unfair to say that the AMCAT exam is only for Engineers.
Special Offer: Get AMCAT at just Rs.949/-. Use Code BLOG2019 at payment page. Hurry! code valid till 31st March 2019 only. Register Now.

Myth 2: There are not enough opportunities for non-IT graduates
No, no, absolutely false. If you were to go to the AMCAT jobs portal right now, you will find a lot of job postings for non-IT graduates. HR jobs, jobs for Content Writers, Business Development opportunities; you will find more than enough jobs under these titles.
And, not just enough jobs but also jobs that pay well.
Currently, the AMCAT jobs portal is hosting Business Development jobs that pay as high as 7 LPA for fresher graduates.
Myth 3: There are no big companies that hire through AMCAT
Undoubtedly the biggest myth about the AMCAT exam that you might have come across and the most baseless of all the myths.
There are numerous big companies that have regularly been part of the AMCAT exam. Companies like Reliance Jio, Über, BYJUs, Aricent, MindTree, Cognizant; continue to regularly hire candidates on the basis of their AMCAT score.
Small and Medium Enterprises, start-ups; the AMCAT exam has played host to a lot of upcoming, big and happening names.
Myth 4: You don't get enough job opportunities despite scoring well
Sometimes we do get complaints from people who claim that they scored well in their core subject but didn't get enough job opportunities. If you do well in all the modules set by the AMCAT exam, you are bound to get a lot of job offers. (Don't believe us? Read the AMCAT testimonials)
However, you need to understand that we have four compulsory modules for a reason. Your communication skills, aptitude and what kind of person you are (gauged through the Aspiring Minds personality test), all make up for what the recruiter thinks about you and whether you would be a right fit for the job or not.
So, focus on all aspects of the test to get your dream job.
Myth 5: You don't have to work all that hard to prepare for the AMCAT exam
If you are one of those regular students who focused on whatever was taught in class and are absolutely clear on your basics, then you would definitely have an easier time preparing for the AMCAT exam. However, that doesn't say that you don't need to really work hard for your AMCAT preparation.
The AMCAT exam, like most other competitive exams, doesn't believe in negative markings and is pretty defined with its syllabus but it doesn't make it any easier or harder to prepare for it. You need to be absolutely clear on your basics and be confident to answer any question related to that subjected to score well in it.
Myth 6: You can give the AMCAT exam only after graduation
This is so not true!
If you are in the final year, you should and must give the AMCAT exam. This will help you prepare for the Campus Placements and make your candidature stronger. Not just that, with the AMCAT exam, you will also get to apply for jobs outside your campus and rock in the off-campus placements.
Of course, you can give the AMCAT test after graduation – right after graduation and even one or two years after graduation.
The AMCAT exam has expanded exponentially in the past few years. As such, it is only obvious that some myths would arise around it. So, in case you too have some doubts and want to know more about the AMCAT exam, you can drop your thoughts in the comments section below.
Till then, keep preparing, keep growing and keep making the most of the AMCAT jobs portal.
Special Offer: Get AMCAT at just Rs.949/-. Use Code BLOG2019 at payment page. Hurry! code valid till 31st March 2019 only. Register Now.