AMCAT Ambition for working professionals can become a golden chance for them to connect/redefine their career goals.
People from every walk of life, with any number of years of experience, can participate in the contest and bring their desires into reality.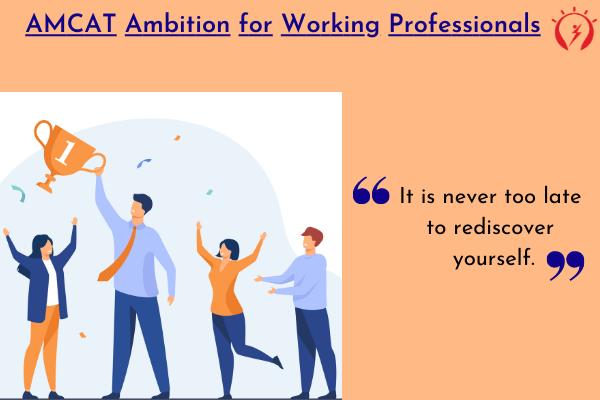 Career goals are not absolute destinations. One transforms and redefines his/her career goals with every step taken ahead, be it in studies or while working. As one's perception expands, so does his/her ambition.
Regarding this, AMCAT Ambition offers a unique opportunity for everyone to affirm their career goals. It would not only offer you exciting rewards such as Samsung Tablet, etcetera, but it will also offer various other advantages which you cannot afford to miss out on.
Many professionals sharing an intermediate level experience still seek out to switch their role or upgrade their profile in the pursuit of fulfilling their ambition.
In such cases, AMCAT Ambition acts as a saviour in disguise extending a perfect opportunity for you to explore different possibilities.
Scroll down below to know in detail about the AMCAT Ambition for Working Professionals.
Click Here to apply for the AMCAT Ambition 2021. 
Why every working professional must participate in the AMCAT Ambitin Contest?
Viewed from a distance, working professionals appear to have a stable stature. However, the reality is that even they are trying to expand a level up from wherever they are. While some are thinking to upskill themselves, others are probably thinking to start their venture. Everyone is in a search to actualise that important career goal which they dreamt of. Therefore, the AMCAT Ambition contest is specially dedicated to this purpose.
Voice out your vision board and let it become a successful milestone as you embark on the professional journey.
How to apply for the contest?
You are supposed to register yourself as the foremost step. Kindly visit the official website and enter the required details. Afterwards, you will have to take the AMCAT examination along with the video sharing.
Based on your result, you shall be acknowledged with various prizes.
Why more working professionals are switching their career path?
Today, the career path is no more a linear one. It is multifaceted. This implies that a seemingly insignificant chance may turn a wellspring of opportunity for others. People take dynamic shifts in their work in the search for fulfilment.
Undeniably, this only comes with a certain level of experience. As only until you dive into the sea of opportunities, will you learn to swim. However, this doesn't mean that you only have one option. The sea beholds numerous directions and options.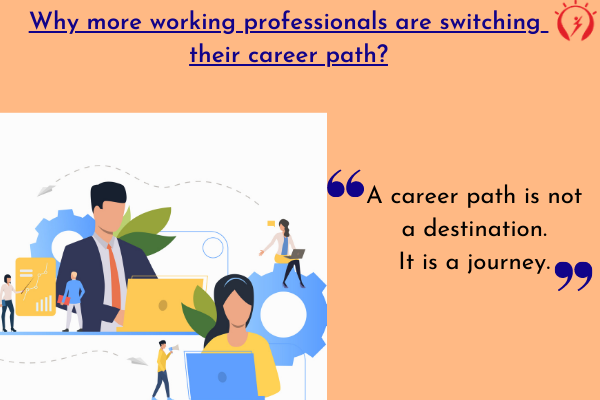 The above analogy is to showcase how working professionals feel the longing to carve a path of fulfilment and abundance. They have numerous ways to reach the destination. However, sometimes they feel cloistered in walking the linear path.
Getting a job or working on a role for a certain period is not the end goal. It is rather a launchpad for paving a new way.
You may be wondering if this is true or not. Let's dive into the facts.
How professionals are trying to fulfil their dreams?
 A Report by LinkedIn says that 57% of the working professionals consider switching their current job to fulfil their dream goals. The number is gradually increasing.
It is not that a particular role/job is difficult for them. This has nothing to do with their current job nature too. It is all about realising one's desire where they can find the highest expression of themselves.
The LinkedIn report 2019 regarded this happening as "career sleepwalking". What does it mean? It is a situation wherein a person is striving all out and yet is ending up nowhere.
Henceforth, this situation invariably pushes them to make a career switch or take any suitable action.
Here's how they responded:-
1. 73% wished to switch their roles in the search of doing what they love,
2. 70% changed in the pursuit of finding work-life-balance,
3. 56% of them seemed learning and growth opportunities,
4. 57% of them opted for a job that would provide them with a good income.
Here is a graphical depiction of the survey outcome:-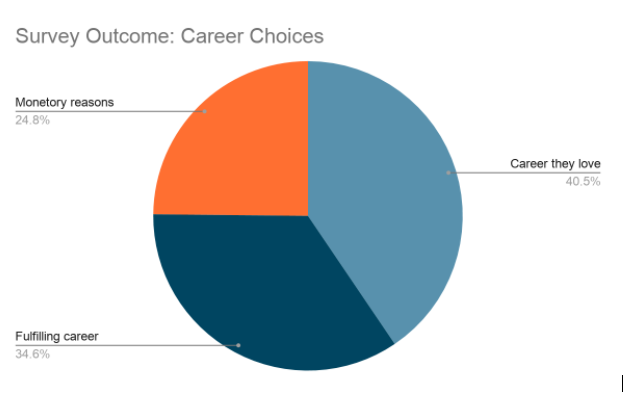 While a considerable chunk of the professionals reported that they did what they love. Other 53% of them did so because it was a fulfilling career choice. The rest 38% of them chose that option because of monetary reasons.
Now, it is evident that most professionals make their career choices out of passion. On the contrary, the monetary reasons cover the least percentage.
3 ways in which professionals find their purpose
People are opting for unconventional methods today. What was a far fetched dream yesterday is a living reality in the present times. Here are three main reasons how professionals find their purpose:-
1.  They take a career break to get clarity,
2. They take a sabbatical for some time to figure out if their chosen path resonates with them,
3. Switch roles or upgrade their profiles.
Why AMCAT Ambition for working professionals should matter?
It is clear from the above study, that getting a job is not a destination. One step leads you to another. This is where AMCAT Ambition will play a pivotal role in channelising your energy in the desired way. How? You may wonder.
You are supposed to share your ambition video and take the AMCAT test along with that. Your profile will be shortlisted based on your overall performance. Subsequently, you would receive some super exciting prizes for winning the contest. You may also land up getting a new job base on your AMCAT score.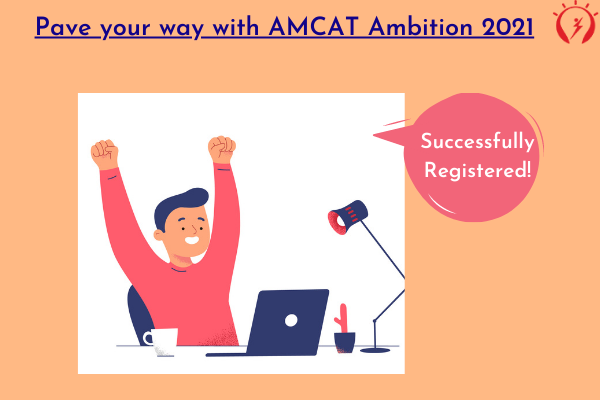 However, the journey doesn't end there. The process of the competition is very interesting. Eligible candidates will be describing their ambition virtually. This practice will enable them to affirm their goals.
How AMCAT Ambition will help the working professional carve a new path?
Discover how AMCAT Ambition let you live your dreams.
1. Do you know that by sharing your conviction towards your purpose, you strengthen the resolve to do so? AMCAT Ambition for professionals is essentially dedicated to that. You will share your ideas with a team of expert.
2. Not only that, this experience will enable you to network with like-minded people. The importance of networking needs no explanation to the "working army".
3. By speaking out your dreams, you would also get an idea if a goal is coming out of mere fascination or if it is a strong desire coming from within.
Conclusion
It is never too late to find your highest expression. It is an ongoing journey. Therefore, no matter if someone has got a great job, still there is always a scope for improvement and expansion. Thus, contests like AMCAT Ambition will enable the working professionals to declare their dreams once again. It may even turn out to be the turning point of your professional journey. So take your chances and grab this unique opportunity as only a handful of days are left.
All the best
Get in touch