"Why should we hire you?" is commonly asked questions during a job interview. Quite often, it addresses the recruiters' inquisitiveness of understanding the seriousness of the candidate for the role applied for.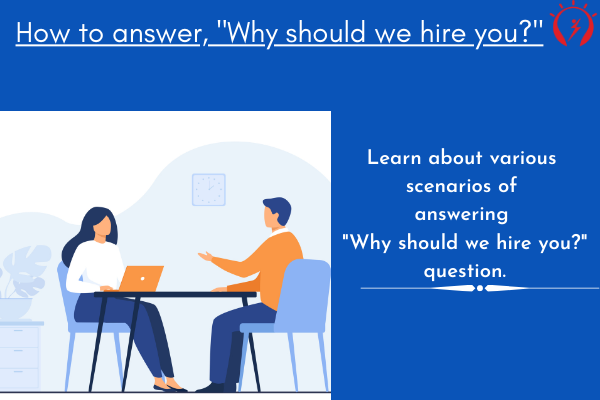 While many may be ambiguous or may not be. However, responding to such a question involves some preparation to put the best foot forward. Therefore, here is a comprehensive insight into various aspects of this situation. Learn about the crucial tips to take stepwise action to present the best answer.
Scroll down below to know in detail about answering, "Why should we hire you?" interview question.
How to answer, "Why should we hire you?"
To come up with an impactful answer, you must approach it in a stepwise manner. So here is how you can do that:-
1. Highlight Your Expertise
The very first hook of your answer must focus on the skills. This is the primary step. Kindly check below:-
 Talk about the core skills
Your core skills should align with the Job description. Therefore, go through the role thoroughly before appearing for the interview. Now highlighting your core skills is imperative because that is what you will ultimately do primarily. Therefore, this is the first steps towards answering.
Now, there may be two cases. Either you may be a fresher or you may be an experienced candidate. Both the situations demand different representation of the answer. Therefore, have a look below:-
1st Case. If you are a fresher
Now, if you are fresher then you need to employ a different strategy unlike an experienced professional. Here's how you can do that:-
a. Talk about internships/side-projects,
b. Talk about freelancing projects (if done),
c. Don't forget to highlight your participation in college fests and discussions.
Thus, if you have not yet done any of the above activities, then it is high time to make the best out of your college. Your marks and academic background matter a lot. However, that is not the only deciding factor. So you need to stretch an extra mile to stand apart from the rest.
Don't let complacency hinder your way. Take steady actions in grabbing whichever opportunity comes your way. For example, right now the AMCAT Ambition contest is still going on. So you can participate in the competition and not only win an excellent chance to get rewarded but will also get a chance to enhance your resume and interview round.
For instance, consider the following example of a Computer Science Engineer job application:-
Sample:-

"I feel that I am a good fit for this role because having worked on various freelance college during my college days helped me polish my skills with hands-on experience. I was able to present error-free programs with great efficiency for 8 weeks. Apart from that, my participation in technical fests was constant throughout my graduation."
Click here to register for AMCAT Ambition 2021.
2nd Case. If You are an experienced professional
If you are an experienced professional then your job becomes relatively simple.
a. You should now focus on your job role no matter how many years or months you have worked for.
b. Talk about how that experience will assist you in the job applied for.
c. Don't miss out on giving details about the results of your work in the previous organization.
In this way, you are not only highlighting those core skills, but you also emphasis the application and the result part.
Sample:-

"My 1.5 years of experience in the ABC organization opened me to the practical aspects of XY software. I was able to offer efficient services within one month itself. Apart from that "Z " online course helped me a lot in polishing my skills. Therefore, I feel that I shall be the perfect fit for this role."
2. Soft skills
Apart from your core skills, your soft skills are equally important. The hard skills get you the job, but it is the soft skill that helps you sustain there. While there are very technical jobs. However, on the other hand, some jobs are completely based on one's soft skills such as communication, execution, relationship-building and a lot more.
3. Back your answer with relevant evidence
Now, as you have mentioned your skills and expertise. It is time to back your answers with proof. Kindly, ensure that your answer doesn't become long and monotonous. However, it must have a brief description of various instances wherein you applied your skills.
If you are a professional, then mention your contribution to the previous organisation. Also, talk about the quantitative figure of the goals achieved through your involvement in various projects.
Henceforth, this practice will add substance to your answer.
Get Interview Preparation Assistance Now
It is imperative to understand that cracking an interview is not a cakewalk. It should not pressure you at the same time. However, a good strategy is always required while facing that face-to-face round. "Why should we hire you" answer can be a tricky situation for many. You may feel that you have given the best answer in the world and yet end up getting no job offer. It usually happens when the candidate who might have practised intensively fails to take the feedback. Or probably he/she might be taking amateur feedbacks from the ones who may not be trained.
This is where AMCAT Mock AI comes into the picture. In this technologically advanced generation, this tool offers AI-based assistance to examine your performance.
You can also take a free trial as well.
Book AMCAT Mock AI here.
All the best!
Get in touch