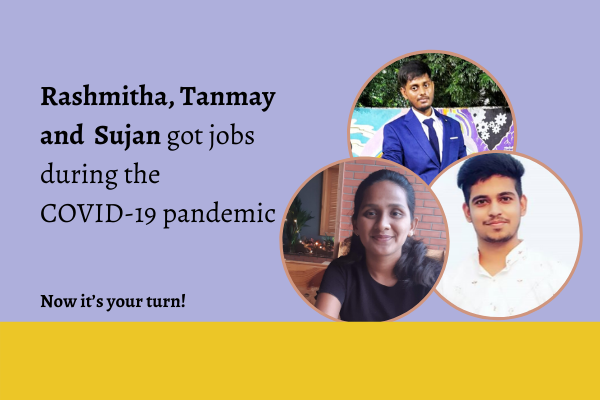 Getting your dream job during the coronavirus pandemic sounds impossible, right?! But what if you find a companion that tells you about your strengths and weaknesses, encourages you to do better, introduces and recommends you to new opportunities? The journey looks easier then, doesn't it!
That is exactly what happened with our AMCATeers when they decided to opt for the AMCAT exam. While the whole world reeled under the effects of the coronavirus pandemic and complained about a job shortage, AMCAT ensured that it's candidates always had the best opportunities available to them.
Finding a dream job was easy – Rashmitha
Voram Rashmitha, a 2020 B.tech student, wanted to start her career as soon as possible. She didn't want to wait in the sidelines but take challenges head-on and find her dream opportunity. And, she found she could do all that and more with the AMCAT exam.
She realised that if you have high aspirations in life, then AMCAT is the right place for you. Her faith was soon rewarded as she found the job she always wanted with CareerLabs. Today, Rashmitha is a Business Development Executive, earning her way to more success.
AMCAT helped me showcase my skills – Tanmay
"AMCAT is the best place to start a career, especially for a fresher like me", says Tanmay when talking about his AMCAT journey. Tanmay initially struggled a lot in his quest to find his dream job.
He faced rejections during college placements and in his own words, was 'broken' by it. However, he found new hope in AMCAT and started on his job search anew. That is when he came across a Sales Executive job with Clarus Telecom. Today, Tanmay is happily placed and has got his confidence back because he knows that he is not alone on his job search journey.
I knew I could trust AMCAT to help me – Sujan
"AMCAT is the number one job provider in the country." It was this belief in AMCAT that guided Sujan to us. Sujan wanted a platform where his talent was appreciated and celebrated. However, owing to the tough competition these days, he realised that might be an uphill task and turned to AMCAT. Needless to say, he wasn't disappointed.
Sujan is now an advocate of never giving up, believing in yourself and letting your talent make its course to success.
Rashmitha, Tanmay, Sujan and so many others turn to AMCAT on a near-daily basis to find a good job. In fact, despite the COVID-19 crisis, 103 candidates got a job via the AMCAT exam in the past 5 weeks alone. And the number is ever-increasing, especially since now we have got more jobs on our portal.
A lot of companies that were not hiring earlier are also turning to AMCAT with the unlockdown to hire the right candidates. And those jobs can be yours too. Just take AMCAT, score well and get ready to write your own success story with a high-paying job.