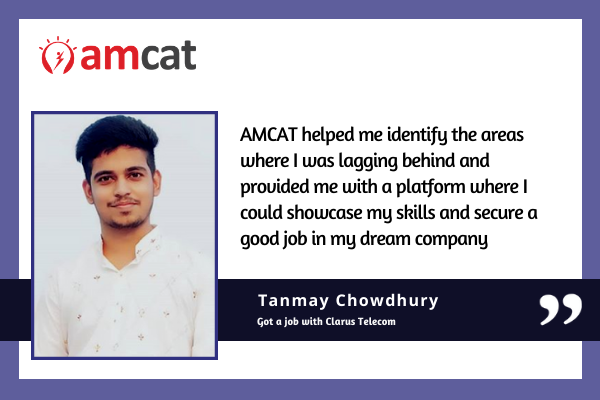 The COVID-19 pandemic has seriously affected the jobs' market. However, AMCAT is still going strong and providing jobs to skilled candidates. And, today, we are going to talk about one such candidate who placed his faith in the AMCAT exam and was rewarded well for it.
Tanmay Chowdhury completed his graduation from the University of Engineering and Management in 2020. However, the pandemic left his wondering about his future prospects and what it meant for his career. That is when he opted for the AMCAT exam.
Here is his success story.
Why did you opt for the AMCAT exam during the COVID-19 pandemic?
"I think AMCAT is the best platform to start a career, especially for a fresher like me."
"The AMCAT exam helped me identify the areas where I was lagging behind and provided me with a platform where I could showcase my skills and secure a good job in my dream company."
Today, Tanmay is placed with Clarus Telecom as a Sales Executive.
Did you face any difficulties while searching for a job?
"Yes, I did", remembers Tanmay.
"During campus placements, I was rejected in the last round of a job. I was totally broken after this rejection and was unable to identify where I went wrong. That is when I opted for the AMCAT exam."
The AMCAT report particularly helped Tanmay as it pin-pointed his strengths and weaknesses and told him how to do better. Recharged with this information and confidence, Tanmay knew that nothing could now come between him and his dream job.
"After giving the AMCAT test, I got shortlisted in one of the big companies that I had always been eyeing.  I also started getting interview calls that really boosted my confidence and I was able to secure a job in my dream company. Thank you, AMCAT for providing such a platform to showcase my talents and skills."
Thank you, Tanmay for making us so proud!
Tanmay with his hard work and never give up attitude ensured that success was his when he was finally ready for it. Even as the world reeled under the COVID-19 pandemic, Tanmay went out of his way to learn from his mistakes and turn this time into an opportunity.