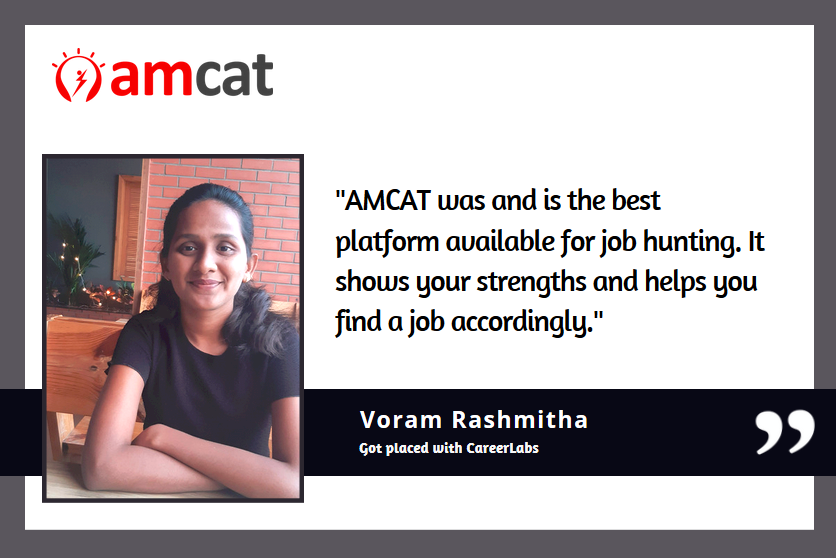 The AMCAT exam has helped a lot of people find their dream job, even during the coronavirus pandemic. While everyone gave us saying that job options are now more limited than ever, AMCAT stood up and saw that our candidates were not left wanting. And, testifying to our hard work today is another AMCATeer who has made us all super proud; Voram Rashmitha.
Like everyone else passing out during the pandemic, Rashmitha was worried about her future job options and decided to opt for the AMCAT exam.
Here is her success story.
Why did you go for the AMCAT exam?
"After my graduation, I wanted to start working as soon as possible. AMCAT was and is the best platform available for job hunting. It shows your strengths and helps you find a job accordingly."
Rashmitha completed her B.Tech from JNTUH College of Engineering in 2020 and got closer to her initial inclination of working soon after college.
What about the job you got, are you excited about it?
"At first I was not getting shortlisted for some jobs. But I was persistent and finally got my dream job as a Business Development Associate with CareerLabs."
"It is the perfect job that I was looking for and I am sooo excited to join it."
"After going through a few rounds of the interview process, I was shortlisted and got this incredible opportunity."
Would you recommend AMCAT to others?
"Yes! It was really great to get support from AMCAT (when I was on my job search)"
"AMCAT is a dream place for people with high aspirations. Everyone can find their perfect job through AMCAT."
Thank you Rashmitha. You are most kind.
The AMCAT exam not only helped Rashmitha find a good job, it also matched up to all her expectations and ensured that when it came to her first job, she didn't have to compromise; even during a pandemic.
And much like Rashmitha, success can be yours too. Just trust AMCAT!