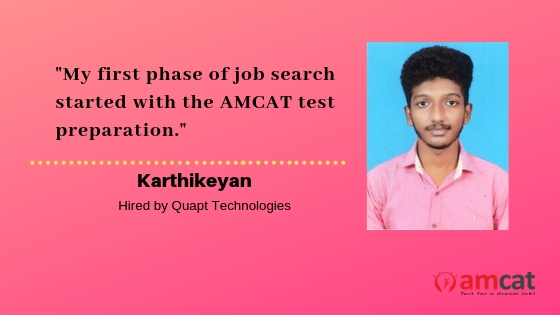 Often enough we are asked if the AMCAT exam is really worth all the hype? If it actually helps students step into their dream career? And, while we keep telling people about all the benefits of the AMCAT exam, sometimes we are happy to let the successful candidates do it for us.
Today, we have got Karthikeyan to talk about his experience with giving the AMCAT exam –
Why did you opt for the AMCAT exam and how was your experience with it?
"My first phase of job search started with the AMCAT test preparation. I felt that it might help me with the placements."
As for the test experience, it was great! "Better than expected. The interface was at another level!"
While Karthikeyan, was being wowed by the interface, he realised that the first phase of his job search was super successful. It helped him get selected as a Software Developer in Quapt Technologies. And from then on, things turned in his favour and he started on his journey to success.
Would you recommend the AMCAT exam to others?
"Yes!"
"AMCAT has a good number of startups and other companies in its fold." The AMCAT exam, since it caters to the need of the freshers, ensures that they get the best of everything. There are many companies that completely rely on the AMCAT test to shortlist candidates for them. And, that is the reason why AMCAT has emerged to be such a success.
How was the job interview and how did you prepare for it?
"It was my first interview so I was a little nervous. However, the interviewer, as well as the AMCAT coordinator, were very supportive. For the interview, I just brushed my basic and went through my resume more than once."
Of course, the key to success in, not just the AMCAT exam but, any job interview is having a firm hand on the basics, and that is exactly what Karthikeyan did to succeed.
Also, knowing your job resume is an important tip as the interviewer would most likely ask you questions from there. They would try and determine how well you have prepared for the interview and how serious you are by questioning and cross-questioning you on the basis of your resume.
The AMCAT exam can be a perfect platform for anyone looking to step into the world of jobs and careers. And, we are not just saying that on our own but we have got our successful candidates to prove it for us.
If you too want to write a similar success story, then schedule your AMCAT test right away!