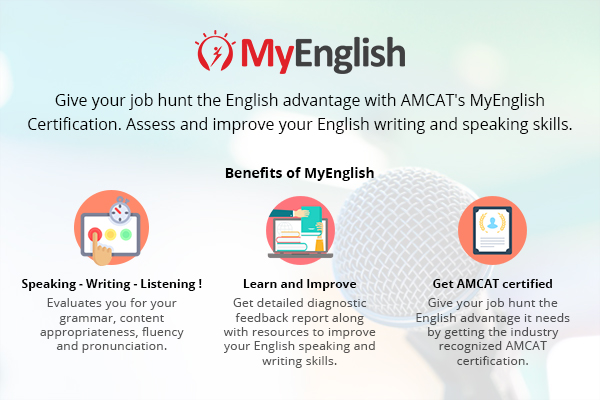 It is a well-known fact that at present many graduates lag in their careers due to their poor employability quotient. Many job aspirants fail to nail their interviews because of poor communication skills. We have already spoken of the ways you can hike your employability by improving your soft skills. It is the time that you take serious measure. Now, we shall guide you on how to assess your communication skills in English. Assessing your English is vital as it portrays where you exactly stand and how far you can move ahead with your career.
This assessment occurs with a new offering from the Aspiring Minds stable, MyEnglish – a product geared towards English assessment and self-improvement.
How Can I Use MyEnglish?
MyEnglish uses a unique and comprehensive technique to question and assess written and spoken English. Driven by world-class research, MyEnglish provides a profound commitment to:
deliver professional excellence
provide opportunities to learn from your errors
develop work-life English skills
yield a detailed feedback report on each section
Step 1
Once you have registered yourself with MyEnglish, you will be provided with your login credentials on your registered e-mail id. You can then log in to the assessment anytime you want.
Step 2
The next step is to peruse through the test instructions carefully. This is followed by the writing section of MyEnglish. The writing section assesses your written English. This assessment comprises of one essay writing task which analyses and your grammar and sentence structure. The duration allowed to attempt this question is 25 minutes. Have a look at the demo.
Step 3
The second part of the test includes assessment for spoken English. This module evaluates your fluency, pronunciation, vocabulary and grammar. It also gauges your listening proficiency, understanding and accuracy. The duration of this section is 30 minutes.
English Proficiency Report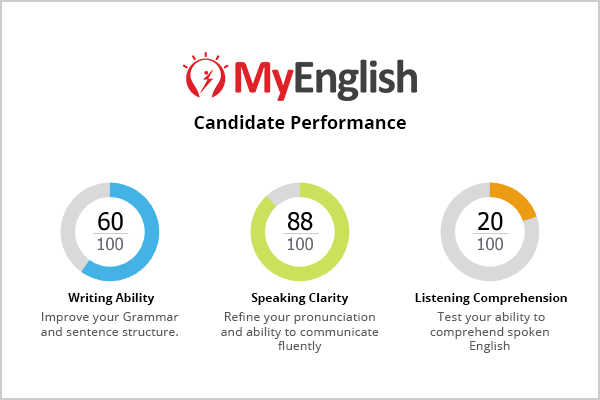 The proficiency report is the most important aspect of this assessment tool. MyEnglish provides a comprehensive, in-depth, detailed judgement of your performance. Here is how MyEnglish estimates your performance.
You will get a score card which comprises of:
Writing Ability
This competency announces your ability to write a variety of text types, such as essays, reports and reviews.
Speaking Clarity
This competency assesses your ability to communicate effectively in face-to-face situations.
Listening Comprehension
This section assesses your ability to follow and understand a range of spoken materials, such as lectures, speeches and interviews.
For the Speaking Section:
Fluency
MyEnglish analyses your speaking skills based on your delivery pace, style and tone. Moreover, you get a feedback along with personalised recommendations based on your performance.
Pronunciation
The same is the case with this section, it provides analysis and suggestions to improve your articulation.
For the Listening Section: 
Spoken English Understanding
This module presents a detailed report on your listening capabilities and the ability to comprehend spoken English.
For the Writing Section:
 Grammar
The grammar score evaluates the degree of grammatical control (sentence formation, spelling errors, grammatical errors) in your response.
Content
The content score defines the relevance and completeness of your response to the topic.
Apart from these 3 analyses, you also get a nuanced report comprising of:
Free Resources: where MyEnglish suggests educational resources that the candidate that use to improve their English in the areas needed.
Error Analysis: enlists grammatical, spelling, style and typographical errors.
Error Definition describes the kinds of errors the candidates have performed during the assessment.
Detailed Feedback Report
An 8-page detailed report
Know your scores on 12 different parameters
Acknowledge where to improve your Writing Skills
Acknowledge where to improve your Speaking Skills
Analyze your performance- where you were good, where you should improve
List of resources to improve your English
AMCAT Written English Proficiency Certificate
AMCAT certification: Earn recognition for your English writing ability with the help of Written English Proficiency certification.
Therefore, before the vital but invisible Hiring Funnel sits and filters your resume along with the n number of competitors, register with MyEnglish to have a happy fall into the selection pool!
So, try MyEnglish and see for yourself. Let us know your views and feedback in the comments.