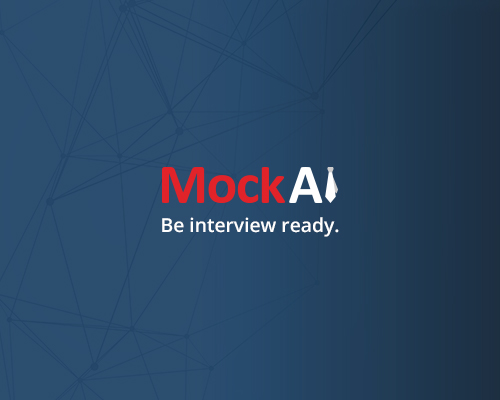 Getting your C.V shortlisted and getting a call for the job interview is only the first step towards actually getting a job. Getting a job interview offer does not mean a job offer and if you are not smart enough and know how to paint the best picture, you might never move beyond the interview stage.
Job interviews are undoubtedly tricky and scary. From getting the right answers while you are sweating in the A.C to maintaining eye-contact and sitting with your back straight and chin up, there are so many things that you need to keep in mind while giving an interview.
However, what if you don't even know what mistakes you are making, what can put the interviewer off and how you can better yourself? Well, that is where Mock AI makes it Bollywood entry.
What is Mock-AI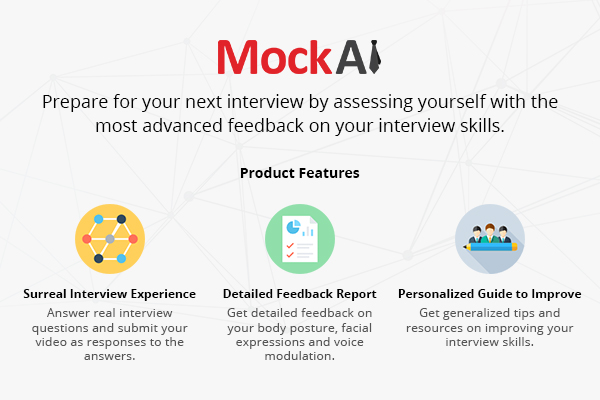 Mock-AI is the newest offering of Aspiring Minds that will help you understand yourself better. Mock-AI presents a stimulated environment where you can take a job interview test and answer real questions in real time. Once you are done with the test you will get a detailed result stating how well you performed, were you went wrong and what you can do to improve yourself and do better in upcoming interviews.
How to use Mock-AI? A product walk-through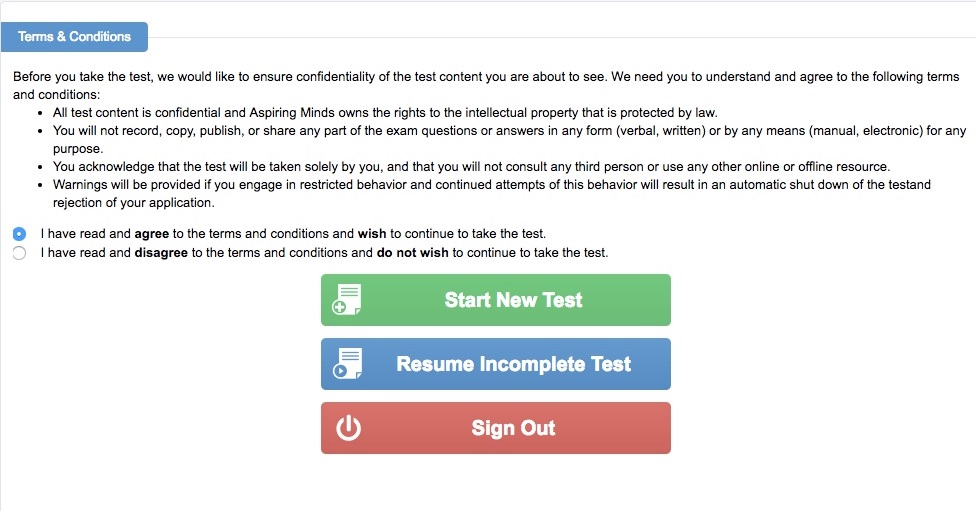 Before you start with the test, you will be directed to a "terms and conditions" page stating that you will have to maintain a pact of confidentiality. Read the conditions provided carefully and once you agree to the conditions you can "Start New Test".
Before starting with the new test, you will come to a page holding the directions for use. Follow these directions to answer each question appropriately. Once you start with the test, don't pause it or minimize the window or move between windows. This will be counted as unfair means of cheating and you will be logged out of the test.
You will be asked a near about nine questions which you will have to answer within the provided time-frame. After you have provided the answer to your satisfaction, you can click on 'confirm answer'. However, do keep it in mind that you cannot go back and change your answer once you have submitted it.
Your Interview Report Card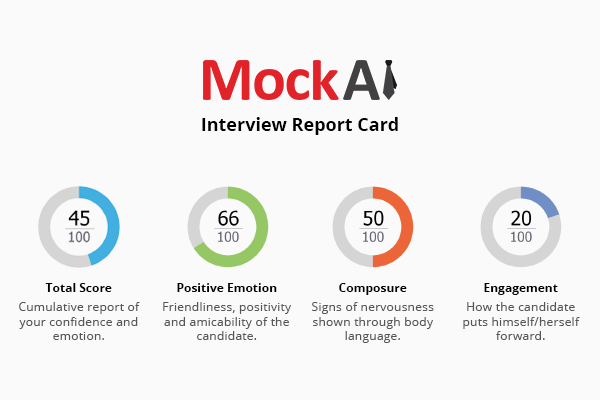 Your Interview Report Card is one of the high-points of this job interview test. It contains a detailed report of how you performed, whether your emotions were positive or negative, whether you made eye-contact or not and how good was your overall engagement.
Total Score
1) Positive Emotion
It refers to the friendliness and amicability of the candidate during the interview;
whether the candidate smiles appropriately and is able to give the answer in a positive
and engaging way
2) Composure
It refers to the candidate's composure while answering in the interview, whether s/he
makes proper eye contact with the interviewer, whether or not s/he shows signs of
nervousness through his/her body language.
3) Engagement
It refers to the excitement with which the candidate answers the question, whether s/he
answers energetically or with a dull expression on his/her face. Appropriate energy
and excitement help a person put forward his/her ideas forcefully.
Interactions at workplace
This section talks about the traits which are valued at workplace and which an interviewer looks for in a candidate. This includes composure, engagement, positive emotions and how you react to tight situations.
Feedback and Opportunities for Improvement
This section contains an extensive feedback on how you performed in the test. It talks about your emotions and how was your body language, composure and engagement along with tips for improvement and what to avoid to do better in the upcoming tests or job interviews.
Not only that, you will also be provided with enough material to guide you through to improve your performance and the do's and don'ts of a job interview.
Now that you know how to use Mock-AI and what are its benefit, scoot away and book your slot, now. Start preparing for all the fresher job interviews and IT job interviews which will soon be coming your way during this crazy placement season.