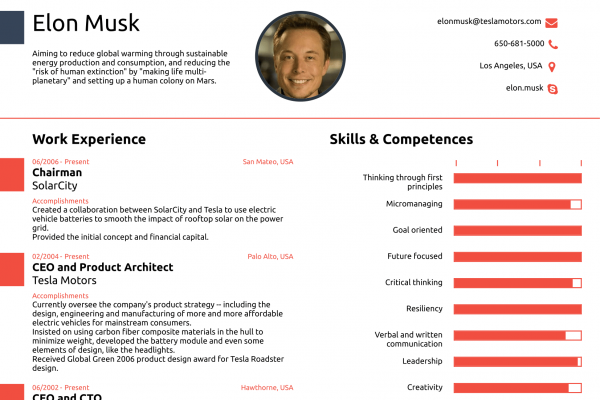 Imagine this:
You come to Earth in the year 1971.
At the age of 12, you create a video game called Blastar.
As a teenager you enroll for high school and graduate in Science and Computers. Later, you graduate with a B.S in Economics and then score a BA with a major in Physics and Material Science.
Trotting down your careerology, you also happen to establish a company which then morphs into the famous PayPal.
You also manage to score the American citizenship. Kudos to you!
You develop SpaceX9, along with putting an investment in Tesla Motors which later leads you to rest on the throne (CEO).
Meanwhile your SpaceX wins $1.6 billion contract to bring cargo to the International Space Station.
Achievements, right? Yes, only if you were Elon Musk. But you are not. 
So, how is all this relevant to you? Well, what we all can learn is how do you draft a CV which has so much to tell yet only 10 seconds of employers' attention? Well, Musk's CV is a must.
Elon's CV narrates the perfect example of using a single page alone to enlist all your accomplishments. Have a look at this resume created by Novoresume.
Enlist your accomplishments, educational qualifications, interests, skills and competencies in short brief write-up. Remember you have 10 seconds, max!
Elon Musk is famous for his reputation as a tough guy to work for. He is celebrated for his high standards are people preach him. Under "skills & Competencies", Elon has enlisted "Micromanaging" as his skills– adding a tinge of humour to express his skills and impress the recruiters!
Make use of little tongue-in-cheek elements to impress your recruiters; Elon has added his admiration for Video Games. Stand out to get in.
The use of bars to quantify his core and soft skills is a good way of letting the employer know your profile in depth. The difference of levels (scoring) in these bars also denotes you are well aware of your capabilities, while you showcase them.
Use nice color combinations without wasting writing spaces.
This piece is the stellar description of a candidate's professional silhouette. Add some stars (or Mars, as Elon would like) to yours!
Let us know your views and queries in the comments. You might also want to check these out:
Resume Tips | Things to learn from Vladimir Putin's CV
Here Is Why You Need Your AMCAT Test Score on LinkedIn
AMCAT Test bridges gap in college life and corporate life: Vikash Gupta