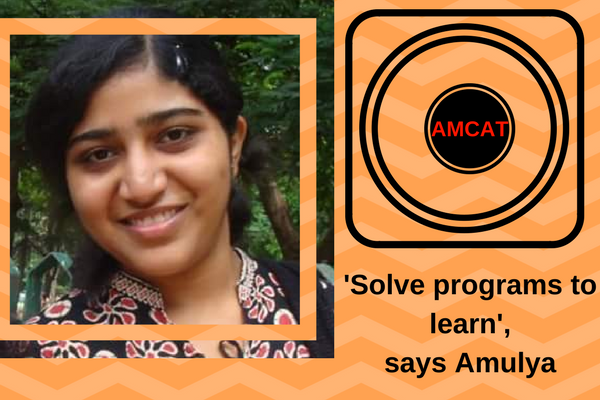 A tech enthusiast, Amulya scored herself a lucrative job for the role of a Software Developer. Her Modus Operandi to have a successful and enriching career is to solve the problems simply to learn. With this plain sailing approach, let us trail down her journey with the AMCAT test which led to her destination fresher job.
A Candid Chat
Amulya tells us that she always sought a job which would help her bring out the best in her.
Q. While looking for a job, did you face any difficulties? If yes, which ones. And why did you opt for the AMCAT test?
"The AMCAT test provides you with an ocean of opportunities and helps you choose the profile relevant to you." Taking the test and the preparation itself was a piece of cake for Amulya– all thanks to her curious approach to learning things.
Q.How was the AMCAT test experience?
" The AMCAT tests its applicants in various aspects. This test helped me analyse my strong and weak areas and I prepared accordingly for interviews."
Q. When did you get your first interview call? How many did you receive?
Enthusiastically she says, "I got my first interview call within 1 week of receiving my AMCAT test results. I have been shortlisted for more than 10 jobs until now."
Q. How was the interview process at the company? What helped you through it?
"The interviewers at 42Hertz were very friendly. They made me feel comfortable and welcomed. The interview was a technical discussion about my experiences in different technologies. It also included discussions on various solutions to questions asked in the written test."
Q. Would you recommend the AMCAT to others? If yes, Why?
Ascribing AMCAT's role for her position as a Software Developer, Amulya joyously recommends the test. She says, "Yes I would definitely recommend AMCAT to all job seekers because not only AMCAT gives you ample job opportunities but it also helps you analyse your skills."
Q. In the end, do you have any tips that can help other job seekers in getting a good job?
"To seek a good software development role, it is best to solve 1 or 2 programs each day and eventually you will master the skill. A thorough revision of all basic concepts at least a week before the interview will guarantee you the job."
So, the AMCAT test has successfully helped this B.Tech graduate to score a job with 42 Hertz Software India Pvt Ltd. What's stopping you! Take the AMCAT test today!
Is Amulya's story awe-inspiring? Want to pen down yours as well? Well, then work for it. Meanwhile, for any AMCAT test related queries, syllabus and questions, reach out the comments section.
You might also like:
The AMCAT Test is a hope to start life after college, says Remaxys hire (Raghav)
I got my interview call within 15 days, says the candidate with a job in Uber.