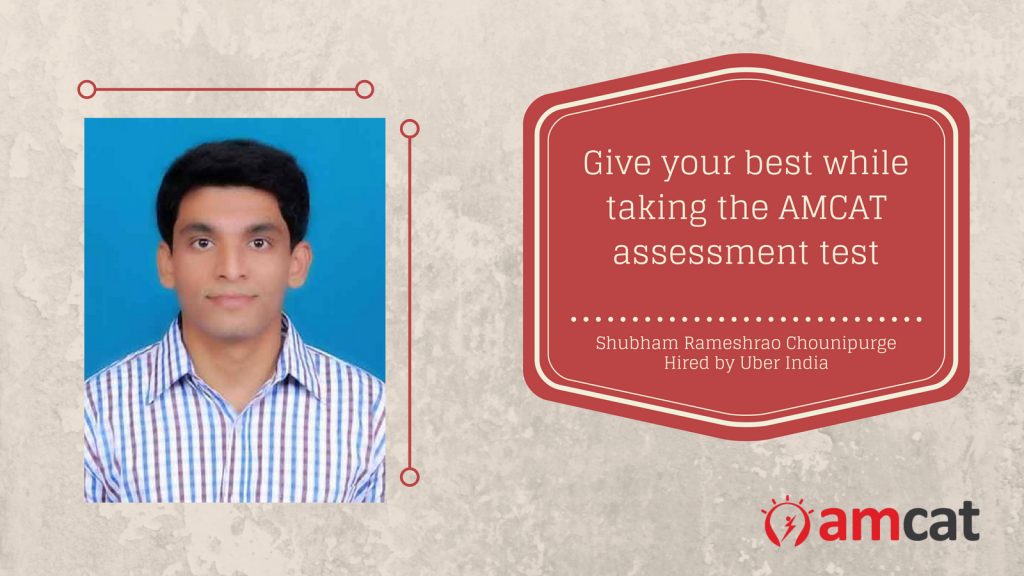 Was it an inclination towards driving, that drove this candidate to a job in Uber India, the largest aggregate cab service worldwide and a serious contender for the role in India? Jokes aside, this 2016 graduate was able to chalk a roadmap to a career in a stable, growing MNC – all with the AMCAT Test.
Our candidate for the day is 2016 B.Tech Graduate Shubham Rameshrao Chounipurge. And this is an outline of how he landed his current job in Uber.
Why the AMCAT Test
Keen on adventure sports and music, Shubham was looking for a good enough job after his graduation from GITAM University. He had heard about the test for some time and decided to go for it to understand where he stood in the job queue, vis a vis his competition.
How was the AMCAT test experience?
"I was very happy to know my detailed evaluation. And it definitely helped me understand in which areas I need to improve and in which areas I can do better."
After taking the test, he also received his first interview call within 15 days.
But how did it lead to a job in Uber?
The basics help. As per Shubham, preparing ahead for the skill assessment test was the first one of these.
The next step – know thy company. "Do your homework, know about the company you are appearing in the interview for and brush up your basics."
Cracking careers in Uber
And he did that, ahead of his interview call with Uber India. "There were 3 rounds of interviews in the company. I Googled best ways to clear these interviews effectively and prepared accordingly."
The job in Uber as an operations associate in Hyderabad is definitely a great trajectory arc. And his experience with the AMCAT test is one that he recommends to everyone.
"I would definitely recommend AMCAT to my friends. As it will give them chance to use the best platform, in the way most suitable for them."
Have questions related to this AMCAT testimonial? Or are you considering scheduling the AMCAT test – raise your thoughts in the comments section below.