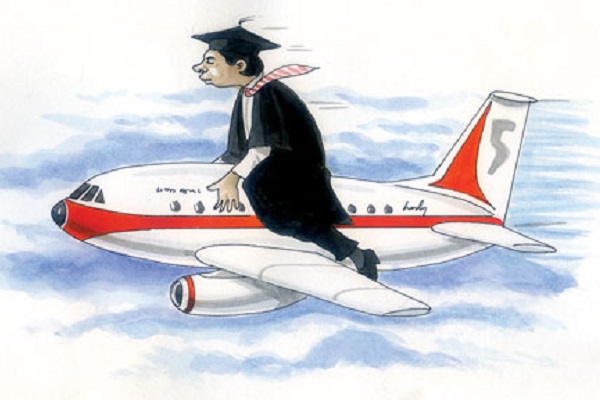 With a vision to stop India's best brains from taking up scholarships for frontier research abroad, the Union Cabinet has approved the PM Research Fellowships (PMRF). This scholarship program, which is looking to plug the brain drain, will cover students of higher education institutions like the IITs, IISERs and NITs, which will also be the country's most lavish paid scholarships to date.
And in another incentive for engineering graduates who want to pursue research, BTech graduates from IITs, IISERs, IIITs or NITs shortlisted for the PMRF will be eligible to directly pursue PhD at IITs or IISc, Bengaluru.
The PMRF includes monthly scholarships of Rs 70,000 to Rs 80,000 and annual research grants of Rs 2 lakh for select scholars. The Centre has approved an allocation of Rs 1,650 crore for these fellows to be spent over three years. And there is hoping that it will be tempting enough to tackle the issue of brain drain.
Apart from 1,000 annual scholarships under the scheme, the government is also planning to upgrade research facilities at the IITs and IISc. Union human resource development minister Prakash Javadekar said the scheme, announced in the Budget and approved by the Cabinet on Wednesday, will pave the way for BTech graduates or graduates from integrated-MTech or MSc in science and technology streams to be offered "direct admission in PhD programme at the IITs/ IISc".
The minimum eligibility for aspirants will be a cumulative grade point average (CGPA) of 8.5. The minister said that the scheme will be rolled out from the 2018-19 academic session.
What to expect
The move can plug in the whole issue of brain drain and tempt the people to stay and pursue their studies in the country itself. However, many people are still apprehensive about the move as the country rages on every few days with new debates on the reservation. While the move is being lauded, many believe that people will continue to seek the academic sanctuary of other countries till India continues to divide people on the basis of caste.
While the caste politics and debate seems to be going on, you can drop what you feel about the move in our comments section below.