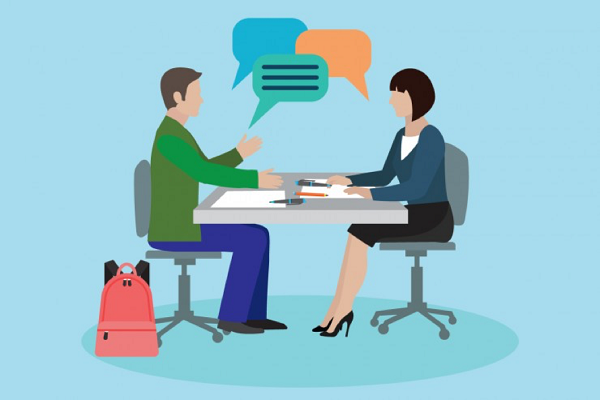 The doorway to a great job leads through the passage called interview. You cannot fail to work on your interview skills and expect to stand out from a crowd of people with nearly same skills and qualifications. To nail the job interview, you need something extra (not-literally). So, here are a few verbal and nonverbal communication cues to aid you in your quest.
Verbal Cues
Voice modulation
Speak clearly in a good volume. Pay attention to your pronunciation and work on voice modulation to get your meaning across. Speak in a calm and composed manner and try to get your meaning across to the interviewer without being too forceful about it.
Don't be hasty with your answers. Stress on rhythm, intonation, and variety of words to make your answers beautiful.
Avoid fillers
Try to stay away from filler words and slangs as much as possible. Don't go 'umm' or 'so' if you don't know something. Take your time to arrive at an answer instead of using fillers to approach your destination. Don't say 'yep' or 'yeah' when you can say 'yes'.
Use short and simple sentences instead of going for long ones and you will be sorted. Using longer sentences might confuse you and the interviewer, and you won't want that. Would you?
Don't be a pushy know it all
Don't assume you know more than the recruiter or that you have to show off your vast knowledge of the subject on every opportunity you get. The recruiter might not be an expert in the field but that does not mean you should explain even the basest of things and try to sound smarter than you really are.
If the recruiter wants something explained he/she will ask you to do it. You don't have to go overboard with your 'all-knowing' instincts.
Ask questions
No, no! Don't get it wrong. You don't have to start asking questions and lead the interview. However, you should prepare some interesting and relevant question that you might want to ask the recruiter.
Asking questions which might be related to the position you are applying for or questions about the company will emphasize your interest. It will tell the recruiter that you are not a sheep of the same herd and you are actually interested in the position and can take the responsibility to ask questions and be interactive.
Non-verbal cues
A firm handshake
You must have often heard the saying that "the first impression is the last impression". The same applies when you are sitting for a job interview. A firm, confident handshake will help you make the right impressions. It will tell the interviewer that you are a confident person and they will take more interest in you.
Sitting up straight
Sitting straight might sound like a redundant advice, but it is actually a very important one. Sitting and standing straight adds to your personality and during a job interview, you have to work both with your answers and your body language.
Keep your chin up and don't fidget. Shaking your leg or fidgeting a lot, playing with your hair reeks of nervousness. You won't want the interviewer to see you all nervous even if your heart is ready to jump out of your mouth.
Eye contact
Poor eye contact can actually cost you a job. While a steady gaze and eye contact makes you seem interested in what the other person is saying, a nervous one where you try to avoid the interviewer's eye rather than meet them says you are low on confidence and cannot possibly handle the job pressure.
Maintain eye contact with the interviewer and if it is a group discussion, then with the person who asked the question. This will make the job interview more of a conversation than a scary exam.
Smiling
Smile warmly when you shake the hand of your interviewer or when you greet them. Smile where it is necessary but don't go overboard with it. You don't have to plaster a fake smile on your face during a job interview. A slight nod of the head and not-so-toothy smile thrown in once in a while will do just fine.
The key is to look happy and confident and be less stressed. While a genuine smile can help you make a good impression, it will also reduce stress and will actually make you feel better about the interview.
So, here was our list of verbal and nonverbal cues to aid you in the job interview. To perfect these tricks and tips practice in a real interview environment and answer real questions with Mock-AI. Get detailed feedback report of what you should do to ace every job interview, whether you sound nervous or hyper, whether you maintained eye contact or fidgeted a lot. However, that is not the only attractive thing about Mock-AI.
Apart from telling you about yourself and helping you practice, Mock-AI also provides study material to guide you through your next interview process. COOL!
If you like this you can also check out:
"I Looked At the Interviewer and Ran". Funny Job Interview Stories
Interview Tips: Know how to handle Tricky Interview Questions #2
Job Interview Questions From Google, Apple, Amazon and How to React To Them