Job readiness in the IT Industry is a whole package! A piece meal approach to it often leaves a student vulnerable to failure.
In college, for instance, you can work to a timetable, in work settings; you can hardly tabulate your time! Other people exercise more control on your time than you do. This basic set up difference can trip many a good student from becoming a good professional. There are also demand and evaluation differences between campus and workplace.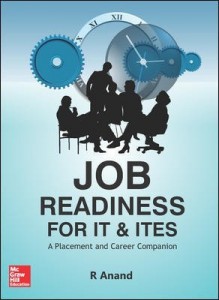 The recent book by author R Anand is such an attempt. The book starts by giving a general perspective on "working" vs "studying".
To be employable, one has to be good at certain things. A competency group and competency approach is used to explain what you need to be good at. For example you must be able to function in a dynamic environment – this is the competency cluster or group, and you need to know what and how to inform your supervisors and others ("informing") is a competency within the cluster. Three clusters and 9 competencies are explained with stories and examples that a college student can relate to. Questions, following the stories help you compare notes with fellow students and deepen understanding.
As the labor market becomes "flat", thanks to digitalization, companies can reach out to potential talent directly, at lower and lower costs, without the regular training and placement channels. This means that this direct recruitment will far exceed the campus recruitment in the near future. You only have to look at developed markets like the US, where this is the prevailing reality.
A students' ability to "job hunt" becomes a crucial part of the job readiness package in this reality. The mindset, the skill set and the tool set to job hunt are discussed in this section. The exercises also help you create your own job destination maps and areas. It would give overall confidence to "hunt my job". Hunting is a precious skill in today's world and the many competencies of job readiness readily allude to different aspects of a hunter's orientation.
After hunting comes the presentation of one's candidature. What gets assessed depends on the nature of the job. 6 job archetypes and 10 key questions help one find the essence of the job, the knock out criteria and things that could get you to the top of the selection pile. Using these techniques, one becomes job literate! Crucial entry level IT and ITES profiles are analyzed using the principles of job literacy
The selection process is a natural application of what the job is all about. The tips to ace selection steps and overcome elimination steps are outlined. By looking at areas and sub-areas of testing, and explaining the assessment constructs, the reader gets a grasp of assessment question type by question type. What then remains is the speed of solving which is achieved by systematic practice.
The 7 practices that you can adopt to get into a great IT and ITES career is for both the training and placement officers and for the students.  A tailored individual development plan based on how the student performed in the various sections of the book, including the pre-quiz in the very beginning is the integrating center-piece of the companion.
Your behavior and orientation after the job offer can predict if you will have a successful early career. The dos and don'ts in the pre-joining phase, the first days, the end of the first assignment and the appraisal discussion help you navigate your early career successfully.
Before you dive in, it is important to step back and ask if the IT and ITES career is indeed the right one for you. Questionnaires and reflective exercises in this section help you find your calling and your strengths, so "you like what you do and don't have to work a day in your life!"
Like a good travel companion that will advise you on: what to wear, how to bargain, best times to visit, dos and don'ts; a well-researched companion for job seekers will provide a whole package.
Author's BIO
Anand is presently Sr. Vice President-HR at HCL Technologies, and a serving board member of the National HRD Network. In his 18 years of experience in the IT industry, he has screened more than one lakh applicants, assessed, selected and assimilated tens of thousands of graduates. His recent book, "Job Readiness for IT and ITES", published by McGraw Hill is his attempt to give back to society a specific and comprehensive framework and resource by which students can take charge of their job readiness and employability.