Are you looking for tips to improvise for your LinkedIn profile? Do not worry, we have got you covered.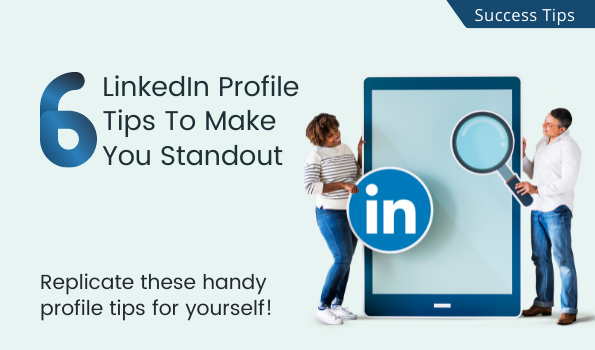 Let us tell you that, AMCAT provides you with an employability certificate after you take the assessment, which you can share as an expert on your LinkedIn profile. Also, AMCAT is in 3rd position in the list of organizations that provide this certificate. Below are the most relevant tips which will help you in improvising your profile.
1. Choose the right profile picture:
Your profile picture is the face of your LinkedIn profile. This is how you are introduced to people and this sets an impression right from the beginning. We would like to share some quick points, to begin with – make sure that the picture is recent and looks like you, wear what you usually like to wear at work, and keep that smile on but most of it through your eyes.
2. Add a background picture:
Do you want to look tech-savvy on LinkedIn, then you should have a background picture since this is the second visual element of your LinkedIn profile. Having a background picture grabs people's attention, sets the context, and more than anything, the correct background photo helps your page to stand out, and engage attention.
3. Make it easy to get in touch:
If you want people to reach out to you easily, then just add a call button along with your email and website, or phone number in the summary box.
4. Grow your network:
This is one of the easiest yet relevant tips which every active user on LinkedIn must keep in mind since this helps in growing and building a network. This feature enables LinkedIn to suggest people one could connect with. It's amazing how effective this can be at filtering out relevant people for you to reach out, also no connection requests are sent without the user's permission. Also, if you are looking for improving your profile, you can do the same by getting into the habit of following up on meetings and conversations with LinkedIn connection requests.
5. Stay up to date:
Having an updated LinkedIn profile all the time is important and not just when you're looking out for an opportunity. You never know, who has the job of your dream and is looking for the profiles for someone like you.
6. Get and give recommendations:
Recommendations are more like references which are easy to get on LinkedIn. All you need to do is reach out to colleagues, previous or current managers, and ask them to share their thoughts on your work and qualities – do not forget to return the favour.
Above are some useful LinkedIn profile tips which can help you in keeping your network vibrant and up to date.
Let us not forget about the most important tools for a job seeker. According to most of the candidates, they are resumes and networks. But what about the platform that combines the two of them? LinkedIn allows you to share your experience, skills, and qualifications while allowing you to build as well as interact with your network.