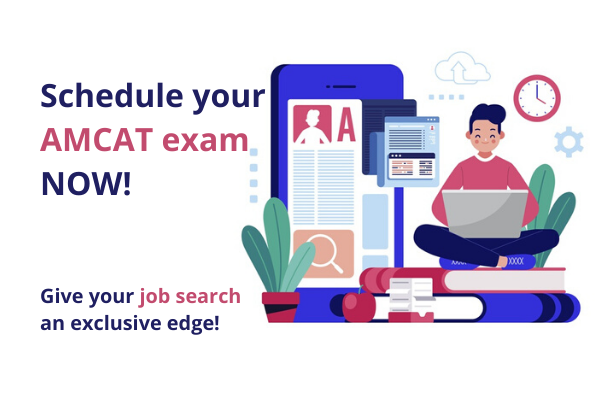 Want to showcase your technical skills in front of the recruiters? If yes, then the AMCAT exam is what you need to quantify your employable skills. And, not just that with your AMCAT score, you can apply to AMCAT exclusive job opportunities.
Even during the coronavirus pandemic, companies are using AMCAT to shortlist potential candidates. So, if you want to have an exclusive job search, then you should schedule your AMCAT exam right away and welcome job opportunities coming your way.
When Is The Right Time To Give The AMCAT Exam?
NOW is the right time to give the AMCAT exam and start your search for your dream job. However, make sure that you are giving yourself enough time to prepare for the exam because you need to get a good AMCAT score. Having a solid AMCAT score will open new job opportunities for you.
How To Schedule Your AMCAT Exam?
In order to schedule your AMCAT exam, follow the below-mentioned steps.
Go to the MyAMCAT home page and fill out the required personal details.
Due to the COVID-19 pandemic, your home is your test centre, so you only need to schedule the date and time of the exam.
Once you are done filling all the mentioned details, go to the payment page, apply the discount code (if any) and now you are on your way to experience AMCAT.
How To Prepare For The AMCAT Exam?
AMCAT Syllabus
We can't emphasis how important it is for you to know the syllabus of the exam if you want to get a good AMCAT score. Based on your scores in both the modules, you will get the interview calls.
So, if you want to get showered with opportunities, then you need to be thorough with the syllabus of the AMCAT exam.
Practice With AMCAT Preparation Material
There is a lot of practice material available online to help you better prepare for the exam.
Sample Papers: Start your preparation by solving sample papers to get a better understanding of the type of questions that will be asked in the exam.
PrepAMCAT: To take your AMCAT preparation by a notch, you should start giving mock exams. PrepAMCAT is the simulated version of the actual AMCAT exam. And, giving mocks will help you get a better understanding of your strengths and weaknesses.
Revision
Once you are through with your preparation material, you should start working on your weaknesses. Go through your notes and start building your base. Doing this will not only you in your exam but it will also help you in the long run.
There is no right or wrong time to give the AMCAT exam as long as you are ready to give your best in the exam. A good score will ensure that you are eligible for the best job opportunities and make the most out of your subscription.
So, schedule your AMCAT exam and start preparing right away.
All the best!