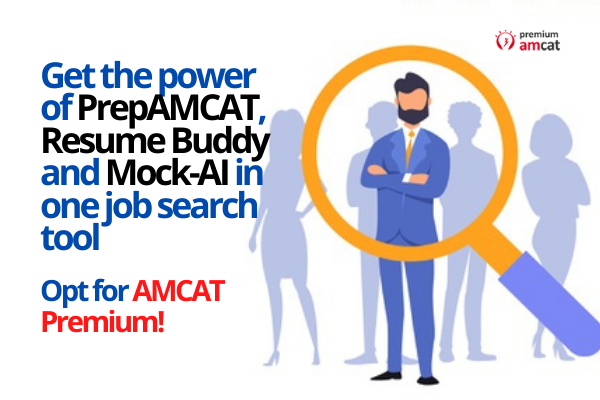 The coronavirus pandemic has a significant impact on your job search. And, to give your future job search all-round protection, you should consider opting for AMCAT Premium. AMCAT Premium is a 3-in-1 job search tool which consists of PrepAMCAT, Resume Buddy and Mock-AI.
So, from getting a solid AMCAT score to creating a power-packed job resume and getting personalised feedback on your interviewing skills, AMCAT Premium will help you at every step of the way. The competition for fresher job opportunities is going to get tougher. That is why having an exclusive lining can take hours off your job hunt without stepping out.
PrepAMCAT
The best way to kickstart your search for non-IT jobs or IT jobs is by opting for the AMCAT exam and getting a good score in the test. AMCAT is an employability exam which connects job-seekers with recruiters.
Moreover, you will get access to exclusive AMCAT jobs which will help you get closer to your dream company. In fact, just during the lockdown, we successfully placed more than 100 candidates in companies like Compass, EY, Zoho, ESI Group and KNOREX.
However, to get the best job opportunities, you need to score high in the AMCAT exam. To help get a solid AMCAT score, you should practice solving real AMCAT questions of all the modules and check your readiness. That is why to ready yourself for the AMCAT exam you should opt for PrepAMCAT.
Resume Buddy
Once you are shortlisted for the job role based on your AMCAT score, you should start working on your job resume. Your resume plays an important role in getting you the interview calls. That is why your resume should be nothing but perfect.
So, to create a personalised job resume with the right resume template and no grammatical or spelling mistakes, you need to have a professional guide to help you create an impeccable job resume.
That is where Resume Buddy comes into the picture. Resume Buddy houses more than 35 resume templates to help you create a powerful and professional job resume. In addition to that, with its AI  recommended word and sentence suggestion, you can never make any mistakes. After customising the sections of your resume, you can also make a well-written cover letter and prepare answers to predicted interview questions based on your resume.
Mock-AI
Your job interview round can make or break it for you and your dream job. So, make sure you start preparing for job interviews as soon as possible. Due to the pandemic, your job interview will most likely be through video conferencing platforms like Google Meet, Zoom and Skype.
Moreover, to reduce the spread of the virus and keeping the employees safe, you will most likely be working at home. So, make sure during the job interview there is no technical glitch from your side.
The best way to show the recruiter that you can effectively work from home is by giving mock interviews at home. And, the best way to keep your preparation going while staying safe is by opting for Mock-AI. You will get to experience a more realistic interview experience and a chance to get your body language assessed. In addition, with the personalised feedback report, you will be able to identify your strengths and weakness and improve them before the big day.
Conclusion
Subscribing for all these amcat jobs search tools individually might put a small dent in your pocket. That is why you should opt for AMCAT premium and get access to all these top tools to get your dream job