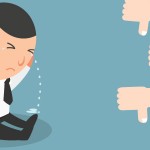 With every aspect of our lives going digital, you should know how you're perceived in the online world. What you say or do is a click away from your employer to see and it is important for all young professionals to keep in mind the basic social media etiquette. Employers nowadays look at your social media profiles more often than you know. If you're looking for a job or just started a new one, you might want to follow the basic social media etiquette to ensure you have a good social media presence.
Don't tweet/post about your workplace – Refrain from venting out workplace issues on your Facebook/Twitter page. Many of us like to share about how our day went however avoid commenting about having a bad at work or trouble with bosses. Posting about your workplace excessively will not score good points with both your current or prospective employer.
Think before you comment – Don't post anything which you would not want everyone in your network to see.  Though your privacy settings would be in place, ask yourselves these few questions the next time you click the post button – Does this content matter? Will this offend anyone? Does anyone else care about this except me?
Beware of oversharing – Do not divulge too much information over the internet. Sharing an hourly update of your trip or too many opinions on every possible happening around you can become annoying for people on your list. Avoid unethical or crude remarks which may seem harmless but can make a bad impression in front of your employer or even jeopardize a perfectly good career opportunity.
Avoid unprofessional photos on your profiles – Your social media accounts reveal a great deal about your personality. So the crazy weekend party you had, should not pop up right when an employer looks for you. Try and keep a casual yet tasteful picture for your profile Facebook/Twitter accounts instead. If you're an active job seeker, make sure your LinkedIn profile has a professional picture on display.
Follow the company's internet policy – Every company has a social media policy in place so adhere to the guidelines sincerely. If social networking sites are blocked at your workplace then abide by the rules. On the other hand, don't misuse the freedom if you have free access by checking updates from your friends and shopping online during work hours.
Even the smallest mistake on social media platforms can snowball more than you can imagine. We are all aware of the repercussions of an error online so follow these key social media etiquette to not worry about who is looking you up.