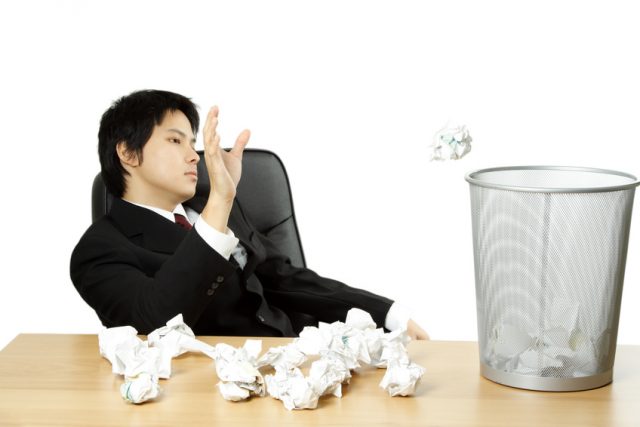 The task of having a perfect job resume can be really scary. There are so many do's and don'ts, and when it comes to resume writing that you don't know what to do about them.
However, more than all the do's, it is important to know what ticks the recruiters off about a job resume – after all, they are the people you need to impress to get your dream job.
To see how you can leave a more lasting impact with your job resume, we have compiled a list of things that can seriously put any recruiter off –
A terrible email id
Seemingly small and having no real consequences, your email id is one of the first things which a recruiter notices. Now imagine how exciting your prospects would be if your email id read something like; sexy#####@gmail.com.
Shudder!
A great email id may go unnoticed but a terrible email id like the one in the example above will immediately attract the attention and the rejection of the recruiter.
Too much information
Say you have a variety of experience under your belt, there are so many achievements that you cannot help but talk about and so on and so forth. Of course, it is great to have a lot of things to recommend about you but cluttering your job resume with too much information might just put the recruiter off.
A better way to go about it would be to include only those things which you think will recommend you to the job and make your candidature stronger.
If the fact that you did a play back in 2005 cannot aid you in your quest to get a Software Engineering job, then let it go, however proud you might be of that achievement.
Similarly, revealing too many private details can also harm your candidature. Keeping your job resume crisp and to the point is the key to its success.
Putting everything in bullet points
Yes, we encourage you to put things in bullet points to increase the readability of your resume but that does not mean that you should put EVERYTHING in bullet points.
Too much of any good thing can also get tiring. So, the best way to go about it would be to maintain a healthy balance of bullet points and complete statements.
Of course, bullet points are still attractive. But the main use of bullet points is to highlight what is important and the things you especially want to draw the focus of the recruiter to.
Like your responsibilities or the skills you have are really important in making your candidature that much stronger and should be put in bullets.
Stuffing keywords
Including relevant keywords is really important to make your job resume stand out and to immediately attract the attention of the recruiter. However, if you over-do it, then you might lose that 'nice' factor and instead lose out on the job opportunity.
Technically, the keyword density in your resume should be about 1-2% of the total word count. So, if you are compiling a 1000 word resume, the main keyword must appear for at least 8-10 times.
Use keywords sparingly and wisely. They should flow seamlessly into your sentences instead of glaring out of the resume.
If you are still unsure about the keywords that you have used, then ask a second person to go through your job resume and point out any word/sentence/keyword that might be appearing out of place or is being repeated too much.
Grammatical and spelling errors
Nothing can put a recruiter off more than grammatical and spelling errors, no matter how small or silly they are. A perfectly written job resume can really give you an edge over other candidates.
In fact, most often than not, people end up making silly grammatical or spelling errors on their resume; something that gets them rejected immediately.
So, pay attention to your commas, the language you use, the tenses and do a quick spelling check before sending in your resume. Of course, making mistakes is only human, so to mistake-proof your resume and avoid silly resume mistakes, you can opt for the refined, oriented formula of Resume Buddy.
Resume Buddy can be a great friend and assist you throughout the resume writing process. With Resume Buddy you can craft numerous resumes, choose the right resume format, check the grammar and include important points necessary to make a winning resume.
An over-generalised resume
One size does not work for all, and the same can be said about your job resume. If you intend to use one resume for all the jobs you apply for, then it is obvious that you will have to keep it generalized.
However, an over-generalized resume is a turn-off for most recruiters as it tells them that you did not care to work too hard or were being lazy with your job application process.
To tailor your job resume according to the profile, go through the job description thoroughly and pick up important key points from there. Try and match your resume headline with the job title and use keywords used in the job description.
Also, highlight the points which you think will be more relevant to the job you are applying for at the moment.
Not enough white spaces
White spaces are just blank spaces in your resume which make them look less cluttered and easier to read. If your resume is too stuffed with things and doesn't have enough white spaces, then the recruiter would most likely not even want to go through it.
Resume without white spaces are harder to read and a such a resume cannot make through the 14-second window that most recruiters provide to any given resume.
So, try not to make your job resume too textual. Also, trim and cut out things which are unnecessary and don't really do anything to add on to your candidature. If you don't have enough experience, then filling up every blank space on your resume won't make your candidature any stronger.
A good job resume requires a lot of conscious effort. While you can trim and update your previous resume in a jiffy, writing a resume from the scratch and ensuring it is up to the mark is no easy task. Also, in today's competitive world an average resume won't do and silly resume mistakes can really put your candidature at risk.
So, go through the points mentioned above again and make sure you are not putting the recruiter off with these resume mistakes.
For professional help, register for Resume Buddy today!