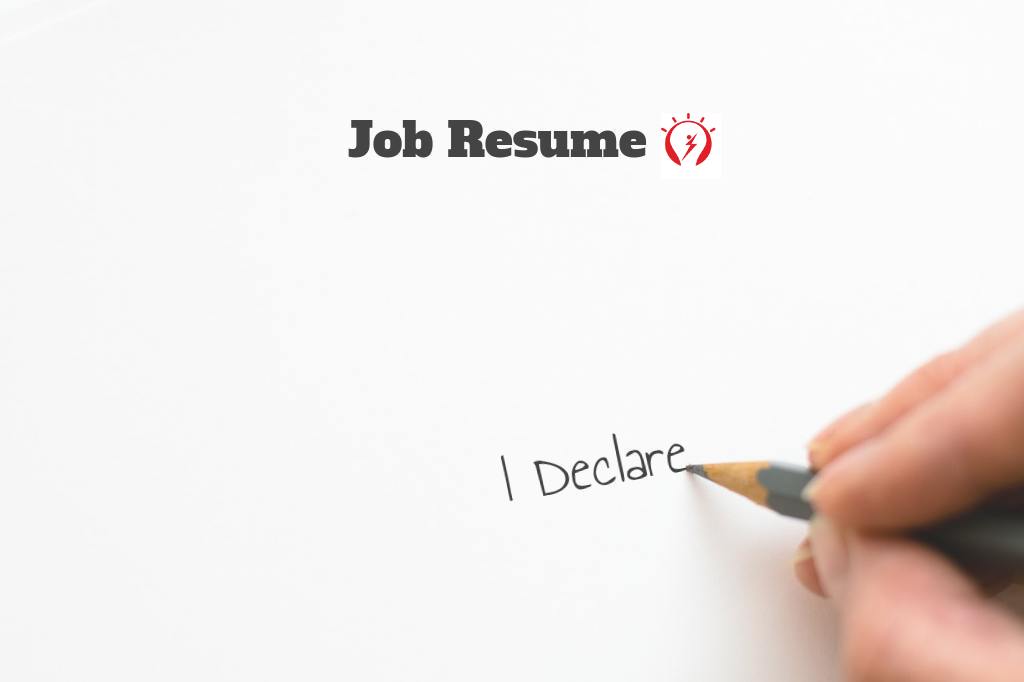 Often you may have come across the advise of having a properly formatted resume, highlighting what all you must include in it. Declaration in resume is one of those 'must-include' things.
Ask yourself how much have you ever paid heed to the importance of a resume declaration?! Seldom we predict. And that's exactly where the catch is.
On an average, employers spend about six seconds to go through a resume. The best way to make a solid first impression is to create a resume that speaks about you.
A resume is one of the most essential documents of your professional life, especially, in your early career days.
So, why not spend some extra few minutes in getting this document right?
Whether you're a fresh graduate or a C-suite level expert, your resume must be on top of your game. A mix of traditional resume writing styles and some modern day contemporary style can make your resume an attractive representation of you.
There is no one correct way to build a resume because there's no one fixed resume format. But there are certainly few things which should be a part of any resume.
Freshers and seniors, both are still equally confused whether to add or do away with resume declaration part. While there is no straight YES or NO to this we'll try to help out with what is ideally acceptable in a real-life situation.
Why do you need a resume declaration?
Before we begin to debate the relevance/irrelevance of a resume declaration, we must understand what it really means.
A declaration is a statement that assures that everything written on your resume is true and fully acknowledged by you.
The resume declaration also includes the name of the writer and the date.
A declaration is mentioned at the bottom of the resume to affirm that there is nothing but the truth in whatever information is included.
The resume declaration writing practice started back in the day when job applicants would post/email their job resumes to concerned personnel of the corporate instead of meeting with them first.
The recruitment process was strictly formal and the hierarchical powers dominated the corporate world.
It was then that the candidates resorted to formal way of approaching the employer and creating a good impression.
Also, the declaration is important when the candidate sends out the resume to a referral or some other contact. This person will then forward it to HR of the desired company in which case, the statement of declaration and signature of the applicant assures that all the data is 100% true to the applicant's knowledge.
This prevents confusion, misconception and frauds in the recruitment process.
Is it ok to not have a resume declaration?
Like we said earlier, Statement of Declaration was an integral part of the resume way back in time. But does it have the same relevance today?
There are mixed opinions on it!
A resume declaration is necessary for situations listed above but the times have changed and so is the resume writing style.
If you skim through the current samples of resume templates, you'd find that the declaration part is still included in some of them. But it cannot be said with authority that it would hamper your selection chances or may put a bad impression if the recruiter doesn't find it there.
Firstly, a resume isn't a legal document which will necessarily require 'I hereby declare that…' statement. It is a personal document used for formal recruitment procedure.
Secondly, a resume in itself is a declaration. It is expected out of you to put only 100% true information in the document. If you're carrying a self-written resume to an interview, you just don't need a declaration statement to prove that all the information in that document is true.
It has been long debated about the relevance of a resume declaration. It's a personal call whether you want to include or exclude the declaration statement.
We suggest you seek professional help if you aren't fully satisfied with how your resume looks.
You can always use Resume Buddy – The one-stop solution for resume writing. Resume Buddy allows you to choose from 25+ template designs, formats and other elements that build the ideal resume for you.
Also Read: Which Are The Biggest Resume Mistakes People Make?