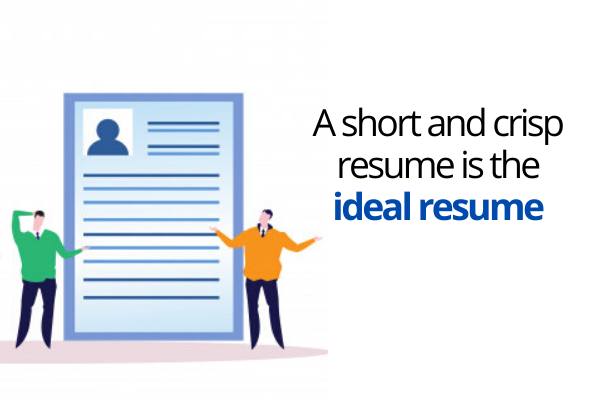 For a single open position, the recruiter receives a number of applications. And, to make sure that the recruiter selects your candidature, you need to make a resume which is skimmable, compelling and eye-catching. So, that just a glance at it will make the recruiter put your resume into the consideration pile.
Here, are some of the tips to give your resume the right length.
Why Job Resume Length Is Important?
On average, a recruiter spends less than a minute on each resume. Due to having such a short time, the length of the resume should be no more than 2 pages. A lengthy resume will make the recruiter lose interest in your profile. Moreover, skimming through a lengthy resume is more time-consuming. In addition to that, your selling points should be clear and concise, there is no need to fill out space in your resume.
However, make sure that your resume is neither too short nor too long. It should be just the right length. The length of your resume depends on whether you are fresher or an experienced candidate.
For Freshers
As a fresher, you only have internships, extra-curriculums and academics to write about on your resume. Therefore, your resume should not be more than a page long. Anything more than or less than this will either too much or too little.
For Experienced Candidates
For an experienced candidate with a good amount of work experience, your resume length can be more than a page long but less than two pages. However, make sure you are only putting relevant detail on your job resume.
How to get the right resume length?
You know about the ideal resume length for both freshers and experienced candidates. The next step is to know how to get the right length to make your impeccable job resume.
Put everything in bullet points
Instead of paragraphs, put your information in bullet points. It will make your job resume more skimmable. Moreover, it will make your resume more professional and concise.
Relevant Information
It is important that you only mention information that is relevant to the job role. Plus, anything that backs your candidature up should be highlighted.
Achievements and projects
When talking about achievements or projects, make sure you mention numerical details. It will also help you talk about something in your job interview.
This is everything you need to know about resume length and how to get your resume in the shape. Moreover, if you want you can take help of Resume Buddy to make an impeccable job resume which will surely dazzle the recruiter.