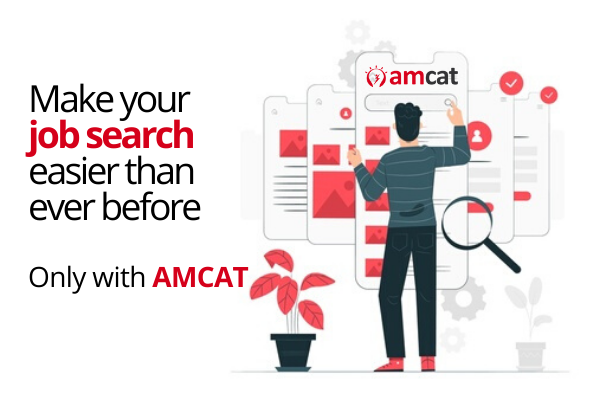 The AMCAT exam quantifies your skills and readiness to face challenges. It also brings tailor-made and AMCAT exclusive job opportunities for you. Visit the AMCAT job portal and take a look at some of the opportunities posted by companies. There is an abundance of tech and non-tech jobs for you to apply. Companies like NTT Data, Compass and more hiring AMCAT candidates. Moreover, you can apply to these opening by sitting at home because you can now give the AMCAT exam from the safety of your home. So, don't let COVID-19 put a stop on your job search.
Once you have given the AMCAT exam, you will get your AMCAT score with a detailed 14-page long AMCAT feedback report. The AMCAT feedback report will help you identify both your weaknesses and strengths. In addition to that, you can also mention your AMCAT score on your social media platforms like LinkedIn.
To bag these AMCAT exclusive opportunities, you need to get a good AMCAT score to show the recruiter that you are the ideal candidate for that job role. So, to help you ace your AMCAT exam, here are a few tips to keep in your mind when preparing for the exam.
AMCAT Exam Syllabus
You need to know the syllabus of the AMCAT exam. The AMCAT exam is divided into 2 modules – Compulsory module and optional module. Based on your performance in both the modules, you will get opportunities. Moreover, under the optional module section, you will have to select at least 2 modules from our vast inventory as per your interest and educational qualification.
Therefore, before selecting the optional modules, you need to be thorough with the syllabus and the topics that are coming in the exam.
Practice!
To polish your AMCAT preparation, you need to practice as much as you can. There is a lot of practice material that you can use to take your preparation to another level.
Sample Papers: The best way to start your preparation is by solving sample papers. Start by solving a handful of questions from each section and find out which section is your strength and which is your weakness.
PrepAMCAT:  PrepAMCAT is the simulated version of the actual AMCAT exam. Solving these will make you comfortable with the exam pattern of the AMCAT exam. Moreover, it will help you improve your problem-solving skills and accuracy.
Revision
Now, you must have gotten an idea about your strengths and weaknesses. So, the next step is to turn your weaknesses into strengths. Go through your notes and start from the base and move upwards. This will help you not only ace your exam but will also help in the long run.
This is everything that you need to know to ace your AMCAT exam and make your job search a piece of cake. Moreover, if you book your AMCAT exam now, then you can get free access to one of our certification courses of your choice.
So, what are you waiting for? Schedule your AMCAT exam right away.