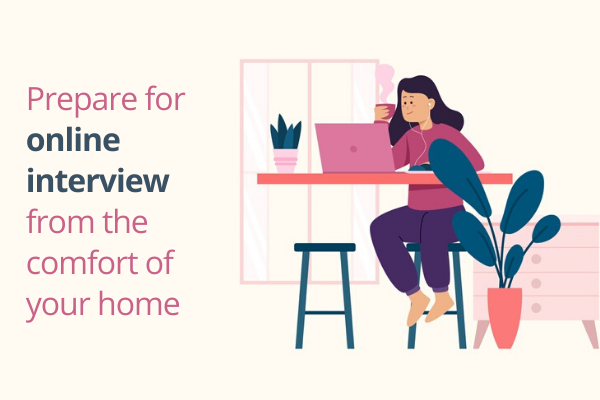 Companies all over the world are now operating remotely to safeguard their businesses and employees from the COVID-19 pandemic. Recruitments have either halted for the time being or have gone online. The hiring managers are using tools like AMCAT to shortlist potential candidates based on their skills and job-readiness. Moreover, they are also taking the help of software like Skype, Hangout and Zoom to conduct interviews. They are also using software to stay connected with the candidates during these trying times.
Now, that the hiring has gone online, you need to know how to conduct an online interview, while staying at home. Here are some useful tips that will come handy when preparing for your job interview.
Make sure your devices are working
Hampering during the online job interview because of your devices not working is the worst possible thing that can happen. So, before the job interview, make sure that all your devices are working and the internet is connected.
Moreover, due to this pandemic, the hiring managers are looking for candidates who can comfortably work remotely and have the skills for it. Conducting a seamless online job interview will show the recruiter that you are the right person for the job.
Location of your job interview
Before your job interview begins, tell your family not to interrupt you during the interview. The ideal job interview location would a secluded room in which you can't be disturbed or distracted. Moreover, make sure there is sufficient lighting in the room.
Give mock virtual job interview
Ask your friends or family members to conduct mock Virtual interview under almost identical circumstances. Practice your interviewing skills and check whether your devices are working or not.
If possible, record your job interview as it will help you better understand the areas where you lack and will help you improve your skills. Take the feedback into consideration and ask them how you looked and sounded. Moreover, ask them if there is anywhere you need to improve.
Prepare answers to common interview questions
It doesn't matter whether it is a virtual interview or a face-to-face job interview; the questions asked by the recruiter will be more or less the same. That is why you must prepare answers to some of the common interview questions. Doing this will help you calm your nerves down and gain confidence during the interview.
Moreover, the recruiter will know that you have done your homework and that you are serious about the job role. Hence, treat the online job interview as a traditional interview.
Dress properly
Your interview outfit tells a lot about you to the recruiter. So, make sure that you have a professional outfit on which screams confidence. Now, during the online interview, you will be seen on camera from above the waist. That doesn't mean that you can wear a shirt over your shorts or pyjamas because the recruiter will know that you are not properly dressed. That is why you need proper interviewing clothes to create a positive impression on the recruiter.
These are some of the tips that will help you in your preparation for the virtual job interview. One more thing you need to keep in mind is to send a follow-up thank-you email to the hiring manager.
Don't let COVID-19 destroy your dream, work hard, and you will get the chance to work in the company of your dreams.
All the best!