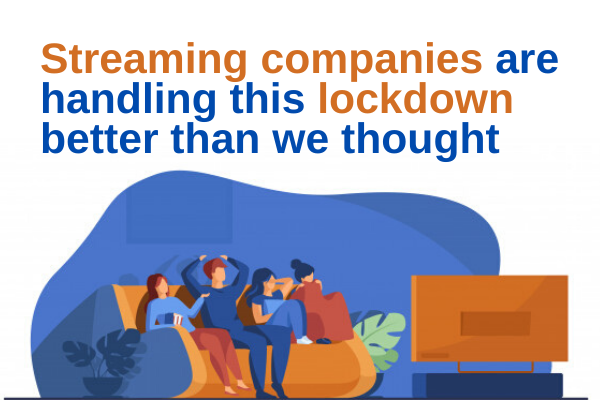 The COVID-19 pandemic has forced us all to stay at home and only go out for essential things. As the doors of movie halls remain shut, streaming website/apps are stepping in their shoes and running the show. The streaming platforms which were once only for the urban, millennial crowd is now also catering to the middle age generation. These platforms are adding old classics for this new audience as the other mode of entertainment remain shut.
Due to the high competition in this market, the amount for the annual subscription is almost the same for all the platforms. Moreover, due to the lockdown, there has been an increase in consumption, which is helping streaming services stay afloat. Here are some more remains as to how they are thriving during the pandemic.
Increased In Consumption
Since the lockdown, there has been a significant increase in the consumption of content on the video streaming platforms. Viewers are rewatching old shows like Friends, The Modern Family and more to keep themselves engaged at home. Moreover, Amazon Prime has an exhaustive collection of films from different part of India which is targeting people from different background.
New Audience
Hold on the production of TV serials has forced the 40+ generation to switch to these platforms. Streaming apps like HotStar and Zee5 have a collection of many classic TV serials that they can watch on their own pace. Mythical shows like Mahabharata, Devo Ke Dev … Mahadev and Ramayana are widely watched by the audience.
Competition In The Market
The only competition these streaming services have is the government-run Doordarshan, which is leading the race with the re-run of the first production of Ramayana to Circus to Buniyaad. The re-airing of Ramayana made it the most-watched TV show in the world.
Given the present situation which has put a stop on the production of new shows or episodes, the TV channels are showing viewers the content they have not seen before. For instance, Zee TV started airing Zee5 paid shows for free to keep the audience engaged. It is like watching a new show for people without the subscription of the Zee5.  In addition, they can also re-run shows that will make the audience relive the charm of nostalgia.
Both the streaming companies and TV channels are doing their best to keep their audience engaged. The future of COVID-19 is making it difficult for them to keep this up for a long time without producing any new content.
However, you don't need to make your future uncertain. Opt for AMCAT from home and start your job search amid the lockdown.
Stay Safe!