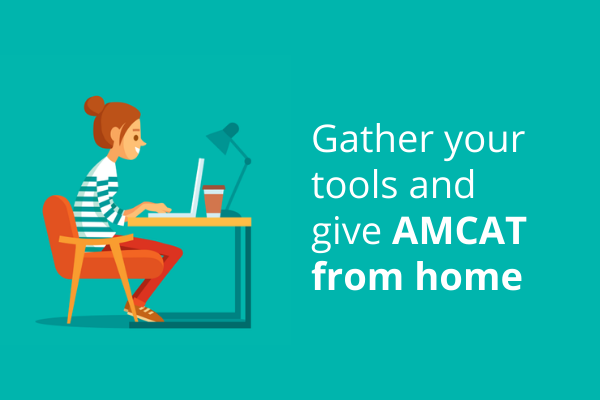 In the light of COVID-19 pandemic, we understand that a lot of uncertainty has prevailed. That is why, to minimize the risk of spread and reduce any possible damage to your job search, we have come up with AMCAT from home.That means, you don't have to put a brake on your career nor put your safety at risk but continue on the path of success like nothing is amiss.
A lot of companies have opted for the AMCAT these past weeks to hire the right candidates. While yes, many companies are freezing their recruitment process, there are a lot many which are continuously looking to expand their business and hire new candidates.
A large number of companies are doing well even during this pandemic, and you can read all about them in this blog.
To apply for these opportunities, you can opt for AMCAT from home. And, here is how you can do that and what are the equipments required for the same.
Turn your home into an AMCAT test centre
Before booking your AMCAT from home, you need to make sure that you have the following things with you.
A laptop/Computer with a camcorder
Working Internet/ Wifi
If you have these 2 things at home with you, then you are ready to commence your job search by giving the AMCAT exam from home. We have been getting a lot of queries from people asking if they can use their mobile phones to give AMCAT from home or if they can use a computer without a camcorder.
However, as of now, only people who have a laptop or a computer with a camcorder can give the AMCAT exam from home. If you don't have either, then we would advice you to borrow the same from your friends or neighbours for the duration of the test (3 hours).
Book AMCAT from home
In order to book your AMCAT exam, you need to follow the following given steps.
Visit MyAMCAT home page and fill-up the form with all the required details such as your name, stream and percentage. Make sure all the filled information is correct before submitting the form.
Now, because your home is your test centre so, you only need to select the date and time of the exam.
Make the payment and start gearing up for your scheduled AMCAT exam.
Getting a good AMCAT score is important to make your job search as easy as possible. Therefore, work hard and prepare even harder to get a solid score across all the modules (compulsory and optional). You can use these AMCAT preparation tips and come out on top.
Give the AMCAT exam from home
Now, with your preparation, you are all set to touch the sky with your success. In order to take the AMCAT exam from home, here are the steps that you should follow –
Log into your MyAMCAT account and go to your dashboard.
Click on the ' start test' button on your dashboard to start your online exam. Make sure to note down the AMCAT ID for all future references.
Be on time for your AMCAT exam because your exam link will expire if you miss the scheduled time slot.
Choose the optional modules and start your exam.
These are the steps that you need to follow to turn your home into an AMCAT exam test centre.
You can expect to receive your AMCAT score after 48 hours of giving the exam. You will also get a detailed AMCAT feedback report which will help you understand your strengths and weaknesses. This feedback report helped our AMCATeers made the best out of their job search. You can read their success stories here.
Use this period of lockdown to prepare for your AMCAT exam and work for the future beyond the COVID-19 outbreak. With your AMCAT score, apply to job opening by more than 450 companies posted on the AMCAT job portal and upgrade your job search amid this crisis.
So, don't lose hope because we are there for you.
All the best!