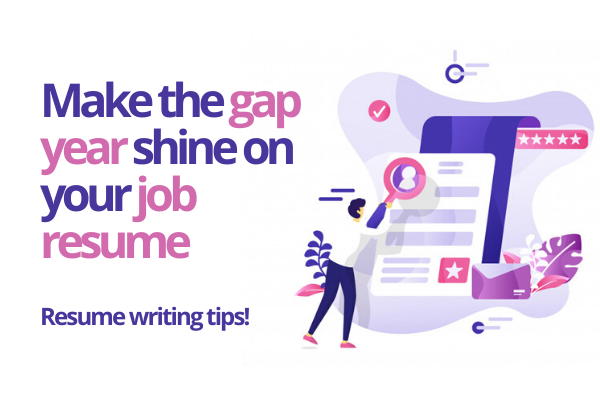 Nowadays, gap years are becoming common, so the hiring manager won't be surprised to see a gap in your job resume. But they do expect you to have a solid explanation of why you took a gap, what did you do and what skills did you acquire during that time. And, if you failed to give a good explanation, then that might have a negative impact on your job search. So you need to learn how to mention career break in resume.
However, you don't need to panic because with the sample resume after career break, you will be able to put your best foot forward.
Use Keywords
Before you start working on your job resume, read the job description carefully. Underline keywords and skills that are mentioned in the job description and use them in your job resume.
Weaving keywords in your job resume will make it easier for the recruiters to find what they are looking for and the reader might not think twice about your gap year. That is why it is important to reflect their voice in your job resume.
Resume Format
The format of your resume is of utmost importance. So make sure, you are using the right resume format to diminish the visibility of the gap year. There are many different types of resume for you to choose from.
A chronological resume format lists your most recent work experience first. It is one of the most common and widely used resume formats. However, it is not your only option.
A functional resume highlights your skills and experience more than when you gained them. In addition to that, if your gap year happened because of personal circumstances that you don't want to disclose, then the functional resume is just the right format for you. With the functional resume format, you can focus on the skills that you developed and hone during your gap year.
Highlight Skills
In order to actively sell your skills, try to put your transferable skills in the limelight, especially skills that you gained during your gap year. Your goal should be to show the recruiter that you didn't waste your time but in fact, used it to hone your skillset.
For instance, you can mention any languages that you mastered or contributed to any worthy cause. If you are successful in highlighting the skills that you gained during your gap year, then that will make you more employed.
Cover Letter
Attaching a cover letter with your job resume is a great way for you to explain the gap year. By putting the skills that you gained at the forefront, you easily justify why you took the time off.
Moreover, you need to make sure that your cover letter is job targeted and relevant to the job role. Your motive should be to explain more in fewer words. So, keep your cover letter short and to the point.
With career break resume example tips, you will be able to show the recruiter that you have the right skills for the job role. Through your job resume, you will be able to show the hiring manager that you are serious about your career.
You can also take the help of professional tools like Resume Buddy to make an impeccable job resume within minutes. It houses 25+ resume formats for you to choose from and give your job search an edge.
So, don't let a gap year come between you and your dream job.
All the best!